Quick & Dirty Guide to GHS Chemical Labels
What is GHS?
GHS is the term you'll most often hear to refer to the OSHA-mandated system for classifying and labeling hazardous chemicals. The system was first developed by the United Nations and adopted by the U.S. Occupational Safety and Health Administration (OSHA) in 2012. GHS chemical labels are one part of the system you may have already encountered in matters of OSHA compliance.
What does GHS stand for? GHS is the shorthand way to refer to the system outlined in the U.N. document Globally Harmonized System of Classification and Labeling of Chemicals, also referred to as "The Purple Book."
GHS chemical labels are labels that adhere to GHS standards that outline particular information to be displayed. If you ship hazardous chemicals overseas, GHS chemical labels must also comply with additional rules regarding how well the label materials and ink stand up to ocean travel conditions.
What are GHS Standards?
GHS standards are the specific hazard communication (HazCom) standards regarding hazardous chemicals as outlined by the U.N. The United States OSHA Hazard Communication Standard (HCS) is fully aligned with GHS standards and requires information identifying chemicals and their hazards to be available and understandable to workers.
OSHA-compliant GHS chemical labels are one important aspect of HazCom that must follow GHS standards. However, there are a total of three HazCom areas that businesses must bring into compliance with GHS standards.
Hazard Classification. GHS hazard classification divides chemical hazards into health, physical and environmental categories and provides specific global criteria for classification.
Chemical Labels. GHS chemical labels communicate the hazards and precautions identified by the particular type of hazard, or hazards, with specific harmonized pictograms, signal words, hazard statements and precautionary statements.
Safety Data Sheets. GHS safety data sheets include sixteen sections with specific content guidelines for standardized communication, must match GHS chemical labels and must be made available to employees in GHS compliant SDS binders.
Who Needs GHS Chemical Labels?
OSHA requires any business that manufactures, imports or distributes hazardous chemicals to practice chemical safety in the workplace, which includes using proper GHS chemical labels. Chemical manufacturers and chemical importers/distributors (or any other types of employers with hazardous chemicals in the workplace) that fail to keep GHS chemical labels updated and well-maintained may face significant penalties for HazCom violations as well.
Chemical Manufacturers
Must classify hazardous chemicals based on the common system of chemical classification following GHS standards.
Must update safety data sheets in accordance with GHS standards.
Must use compliant GHS chemical labels to identify hazardous chemicals.
Chemical Importers/Distributors
Must ensure hazardous chemicals they sell have compliant GHS chemical labels and safety data sheets.
Employers with Hazardous Chemicals in the Workplace
Must ensure all hazardous chemicals in the workplace are properly labeled with chemical labels that are aligned with HazCom/GHS standards.
Must make GHS-compliant safety data sheets available to workers exposed to hazardous chemicals.
Must ensure workers exposed to hazardous chemicals are trained to handle them properly.
What Do GHS Chemical Labels Include?
There are six elements all GHS chemical labels must include in order to avoid HazCom violations. Get started on your labels by gathering the necessary information
Product Name/Identifier. This should match the product identifier on the safety data sheet.
Signal Word. Signal words ensure GHS chemical labels indicate the relative severity of the hazard.
Hazard Statement. The nature of the hazard must be described on GHS chemical labels.
Globally standardized symbols convey health, physical and environmental information to transcend language barriers.
Supplier Identification. GHS chemical labels must include name, address and telephone number of the supplier.
Precautionary Statements. Any measures that could be employed to minimize and/or prevent effects of the hazard must be communicated on GHS chemical labels. This includes first aid.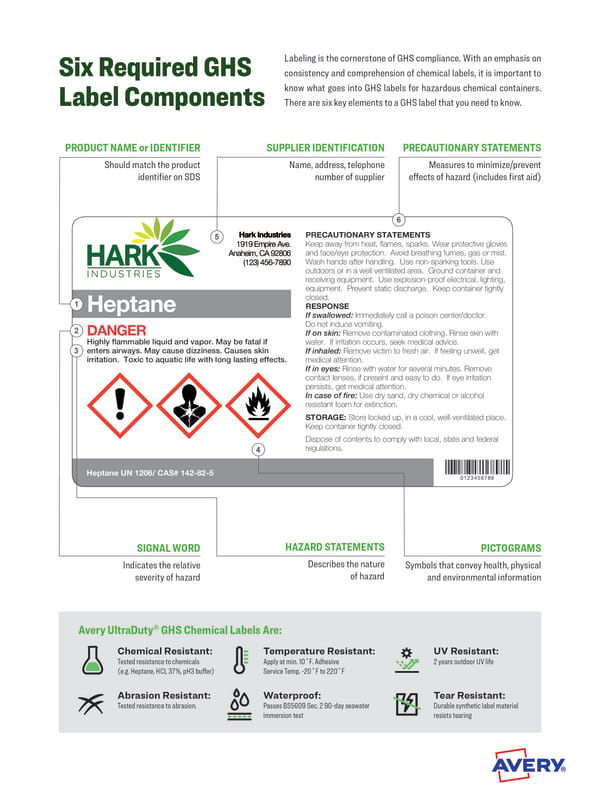 Click to enlarge
BS5609 Certified GHS Chemical Labels
If you are shipping chemicals via ocean freight, you must also comply with standards set forth by the International Maritime Organization (IMO). British Standard BS5609 is a requirement for International Maritime Dangerous Goods (IMDG) certification and deals with how well GHS chemical labels hold up in overseas shipping conditions.
In order to achieve IMDG compliance, GHS chemical labels must adhere to standards outlined in BS5609 Section 2 and 3.
BS5609 Section 2 GHS Chemical Labels Explained
BS5609 Section 2 requires that the blank GHS chemical label and adhesive can withstand a three-month salt water submersion test. It also includes artificial salt spray and sunlight weathering tests.
Section 2 certified GHS chemical labels mean the label material itself (before any printing) is compliant with BS5609 Section 2 standards.
BS5609 Section 3 GHS Chemical Labels Explained
BS5609 Section 3 requires the fully printed label to meet or exceed certain standards for abrasion resistance and permanence of print. This includes testing printed GHS chemical labels with the same artificial salt spray and sunlight weathering plus additional tape removal and abrasion resistance testing.
Section 3 tests are conducted on specific GHS chemical labels printed with specific printers. Trustworthy manufacturers/sellers providing section 2 certified GHS chemical labels should also provide a list of Section 3 certified printers that can be used with their products.
Where to Get OSHA Compliant GHS Chemical Labels
From start to finish, Avery® Industrial is an unbeatable resource for creating your own industrial labels and signage. Visit the Avery UltraDuty® GHS Chemical Labels portal for all the resources you need in one convenient location.
With Avery you can print on-demand from your own printer any time, or use our custom printing services to do it for you. There is no special equipment to buy. Flexible options give you the power to choose what's best for your business. Whether you print at work or order online we're here to help you have a stress-free inspection day.
Resources & Software
Use the GHS Wizard and choose from dozens of GHS chemical label templates that help you get OSHA-compliant and are easy to use— all you need is the label. Shop Avery GHS chemical label products and learn more about OSHA compliance with step-by-step instructions, instructional videos, FAQs and more.
Print GHS Chemical Labels On-Site and On Demand
Being able to print GHS chemical labels on-site any time you need them saves you time and money. Trusted for over thirty years as the standard for providing do-it-yourself printed labels, Avery delivers reliable, convenient on-site printable GHS chemical labels.
Durability & BS5609 Compliance
With Avery you can expect award-winning quality and durability. Avery UltraDuty® GHS Chemical Labels are BS5609 Section 2 compliant— waterproof and resistant to chemicals, abrasion, UV and extreme temperatures. Approved printer guidelines for BS5609 Section 3 compliance are listed on every product page.
Fast, Low-Minimum Custom Printing
Receive ready-for-inspection GHS chemical labels in as little as three business days with Avery WePrint™ custom printing services. BS5609 Section 3 compliance guaranteed, exceptional print quality. No setup fees and low-minimums protect your bottom line.