Prop 65: The Updated Rules You Need to Be Following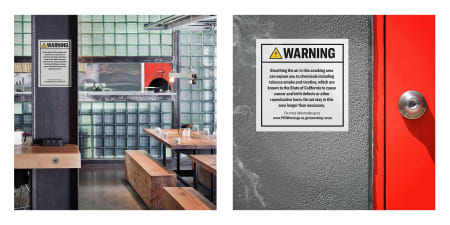 What is Prop 65?
California Prop 65 is formally called the Safe Drinking Water and Toxic Enforcement Act. It was passed in 1986 by California voters to protect citizens' right to know about health risks caused by exposure to potentially hazardous chemicals.
Exposure can be direct, or indirect through release of chemicals into the environment. Prop 65 legally requires businesses to provide "clear and reasonable" warnings before knowingly or intentionally exposing individuals to chemicals "known to the state to cause cancer or reproductive toxicity."
Prop 65 regulations are administered by the Office of Environmental Health Hazard Assessment (OEHHA). Operating under the California Environmental Protection Agency (CalEPA), OEHHA not only determines which chemicals require Prop 65 warnings, but also manages other Prop 65 details such as warnings requirements.
Who Does Prop 65 Apply To?
Prop 65 applies to any non-government business operating in California with 10 or more employees. It also applies to out-of-state manufacturers of retail products that expose individuals in California to Prop 65 chemicals.
If the product itself, or the use of the product, causes exposure to a chemical on the Prop 65 list, it must be labeled accordingly. However, businesses may be exempt from Prop 65 labeling requirements if the exposure to the chemical falls below a certain level.
How Is Prop 65 Compliance Enforced?
Unlike other government agencies that both determine and enforce laws (such as OSHA) OEHHA is not responsible for enforcing Prop 65 regulations. Instead, Prop 65 enforcement is carried out by the California Attorney General, district attorneys and city attorneys for cities with a population of 750, 000 or more.
Additionally, Prop 65 can be enforced by filing a lawsuit against a business believed to be acting in violation of the law. Any individual acting in the public interest may enforce Prop 65 by filing a lawsuit against the business including consumer advocacy groups, law firms and even private citizens.
Prop 65 List of Chemicals
Since its adoption, Prop 65 has required the state of California to publish an annual list of chemicals known to cause cancer, birth defects or reproductive harm. OEHHA is responsible for compiling the yearly Prop 65 chemical list, ensuring its accuracy and keeping it up-to-date.
Chemicals on the Prop 65 chemical list can be either naturally occurring or synthetic. Ways in which consumers may be directly exposed to those chemicals range from using common everyday products to working with industrial processes.
For example, some Prop 65 chemicals may reach consumers via food, household cleaners or vehicle exhaust. While others may reach workers via exposure in the course of doing their job (e.g. exposure to chemicals used in manufacturing, construction or lab work).
Prop 65 Warnings
If a business' goods, services or operations cause consumers to be exposed to one or more chemicals on the Prop 65 list, they are required to inform consumers about the risks associated with exposure. Prop 65 warnings are the specific statements businesses are legally required to display in order to communicate these risks.
California Prop 65 products require a label that indicates the product contains one or more listed chemicals. Similarly, a Prop 65 warning sign is required in any building, structure or designated area where visitors may be exposed to one or more listed chemicals simply by being on the premises.
What Does Prop 65 Safe Harbor Mean?
Of course, not every chemical presents the same safety and health hazards at every level of exposure. That's where prop 65 safe harbor levels come in. OEHHA has determined that some chemicals below certain levels don't present enough of a hazard to require Prop 65 warnings.
The maximum amount of chemical exposure that OEHHA allows without requiring a Prop 65 is called the safe harbor level (or safe harbor number). There are two categories of safe harbor levels: No Significant Risk Levels and Maximum Allowable Dose Levels.
No Significant Risk Levels is used for safe harbor levels pertaining to Prop 65 chemicals with cancer-causing potential. Maximum Allowable Dose Levels applies to Prop 65 chemicals with the potential to cause birth defects or other reproductive harm.
How Have Prop 65 Regulations Changed?
Since its passage in 1986, the Prop 65 list of chemicals has grown to include 976 chemicals as of this publishing. 318 of those chemicals currently have safe harbor levels determined by OEHHA. Considering the list is reviewed yearly, updates to the Prop 65 chemical list are simply par for the course.
However, new Prop 65 regulations were adopted in 2016 with a two-year transition period for compliance. The new OEHHA Prop 65 reforms are intended to provide information that is more useful and meaningful to the public. This means specifying chemicals present and how to avoid or minimize exposure rather than just stating that a product/place contains a Prop 65 chemical.
One of the most significant changes that went into effect as of August 2018 concerns the role manufacturers and retailers play in putting Prop 65 warnings into action. The other major changes all relate to Prop 65 labeling requirements.
Manufacturer vs. Retailer Duties
OEHHA Prop 65 reforms have established more explicit definitions for the roles and responsibilities of manufacturers and retailers when it comes to providing warnings. Going forward, manufacturers bear primary responsibility for providing warnings, with options for retailers to accept various levels of responsibility.
The most direct route for manufactures to be Prop 65-compliant is to simply implement Prop 65 labels directly on their products. However, for out-of-state manufacturers this may not be the most cost-effective option.
Manufacturers and retailers may also enter into contracts whereby retailers agree to take over responsibility for providing all Prop 65 warning labels. This is a convenient alternative for out-of-state manufacturers exporting goods that would not require Prop 65 labels in other markets.
Prop 65 compliance can also be achieved by manufacturers providing notice to California retailers, distributors and importers that a product may cause exposure to one or more listed chemicals. The notice must be accompanied by Prop 65 signs (or other materials) that retailers, etc. can display with the product.
Additionally, retailers, importers and distributors must confirm receipt of notice and display the warning signs or other materials provided by the manufacturer. This process of notice and confirmation must be repeated every year in order satisfy Prop 65 regulations.
Prop 65 Labeling Requirement Changes
Name That Chemical
Warning signs and labels must name one or more of the specific chemicals that motivated the warning. For example, a Prop 65 warning in a designated smoking area may call out tobacco smoke and nicotine, whereas a Prop 65 sign in a parking garage may call out carbon monoxide and gasoline or diesel engine exhaust.
Tailored Prop 65 Warnings
New warnings with more specific information for exposure from certain products and places are now required for Prop 65 signs and labels. These include food and drinks (alcoholic and non), prescription drugs, dental care products, furniture and wood dust, diesel engines, automobiles and recreational vessels, parking garages, amusement parks, gas stations and auto repair shops, designated smoking areas and hotels.
General Warning Statement Changes
California prop 65 warning labels and signs must begin with the signal word WARNING accompanied by the yellow triangle symbol ⚠️. Prop 65 warning statements for a product or building must replace the words "contains" with "can expose you to" when referring to the chemical or chemicals present.
Referral to State Prop 65 Webpages
One of the main goals of the recent Prop 65 amendments is to provide more specific information for consumers. To that end, Prop 65 warning labels must include the web address for relevant state web pages. For example, you might include a message like "For more information, go to www.P65Warnings.ca.gov/parking" on a parking garage Prop 65 sign.
Prop 65 E-Commerce Changes
Products sold over the internet to California consumers are not exempt from Prop 65 regulations. Warnings must be provided on or with the product as well as on the product display page. This can be accomplished with a clearly marked hyperlink using the signal word, WARNING or some other prominent display.
Alternatively, if a California Prop 65 warning label is used on the product, a photograph of the label may also be used on the product display page. The same warning statement on the Prop 65 label may also be used for website warning content.
Prop 65 Warning Label Tips
Tip #1: It's easier to make compliant warning labels if you start out with a good template. Make sure you're using Prop 65 label templates that feature the new ⚠️WARNING signal word and symbol, updated language, appropriate Prop 65 web addresses and space to call out specific chemicals and exposure sources.
Tip #2: No one wants to deal with a lawsuit or the $2,500 per-day penalty for Prop 65 violations. When you're choosing Prop 65 labels and signs for your business, it's important to choose durable label and sign materials you can trust to stay on your products and be fully legible.
Tip #3: When in doubt, ask for help. OEHHA provides great online resources like a Prop 65 FAQ page, a place to submit Prop 65 questions online and a specific help page for businesses.