Party Tips for a Hello Kitty Halloween
Put together a spooky fun Halloween party with your friend Hello Kitty®! These tantalizing tricks and treats are easy to make and frightfully fun to share. Decorate with adorable Hello Kitty® printables in Avery Design & Print, and you'll be sure to make your friends gasp with glee.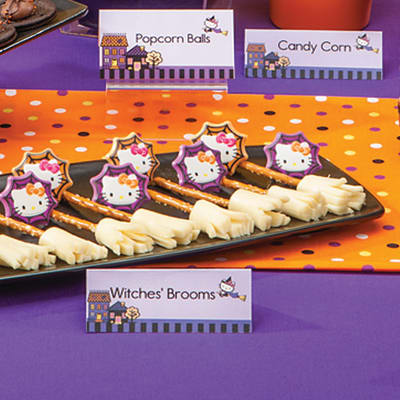 Witches' Brooms
This savory snack will sweep your guests off their feet. You'll need just two ingredients: string cheese and pretzel sticks. Slice the ends off the string cheese snacks and fray one end. Use a skewer to poke a hole on top, then insert the pretzel stick. Create buffet cards for your snack table with Avery Place Cards.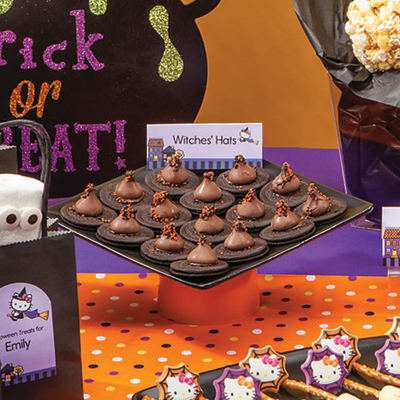 Witches' Hats
The cutest witch we ever did see was Hello Kitty® in her witch costume. And the cutest snack? These witches' hats! And, they're super easy to make. Start with the pointy tops: to make the sprinkles stick, slightly melt the tops of your chocolate drops first with a culinary torch, then sprinkle away. Like magic! Next, add a smidge of frosting or melted chocolate underneath the drops and place on top of chocolate sandwich cookies.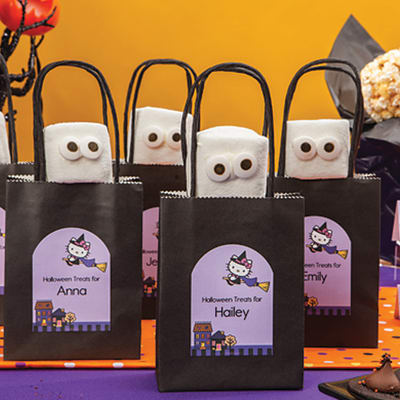 Treat Bags
Surprise your party guests with personalized favor bags filled with goodies. To create the bag stickers, select the Hello Kitty® design for Avery Arched Labels in Avery Design & Print. Then add each guest's name and print.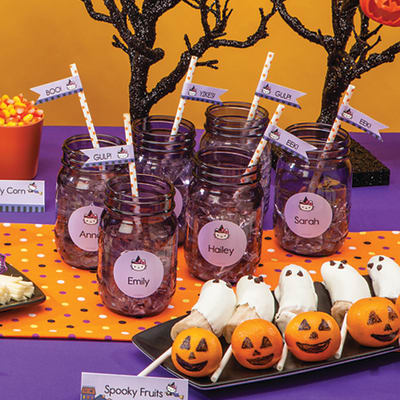 Scary Sips
Serve up some goosebumpy brew or spine-tingling tonic with a personalized touch on mason jars. All you do is customize Avery Round Labels in Avery Design & Print, print and stick. Add a fancy finish with fun party flags created with Avery Adhesive Flags and wrapped around colorful straws.
Creepy? Um, no. But definitely cute! Create the most charming Halloween Party with Hello Kitty®. For more projects and printables, check out our Hello Kitty® page. Have fun!