How to Host a Pumpkin-Carving Party the Whole Neighborhood Will Love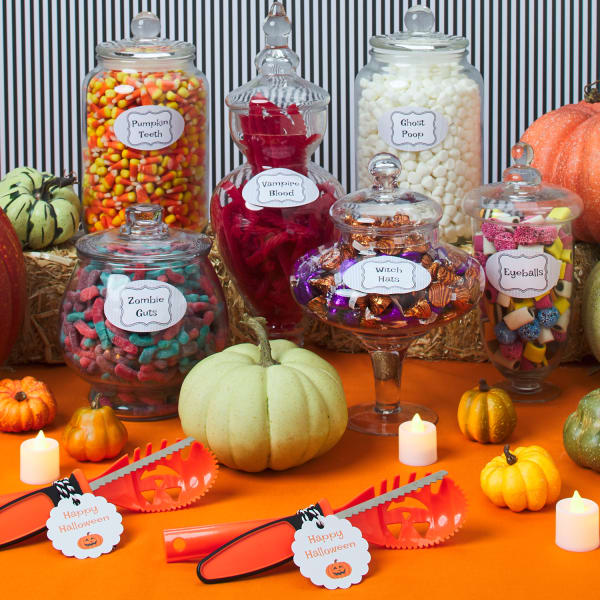 You know it's October once the crooked, warm smiles of jack-o'-lanterns begin to appear on porches and windowsills around your neighborhood. Kick off this Halloween tradition in style by inviting people over for a good old-fashioned jack-o'-lantern carving party. These decorations and ideas are sure to raise your guests' spirits this Halloween.
Pumpkin-Carving Party Invitations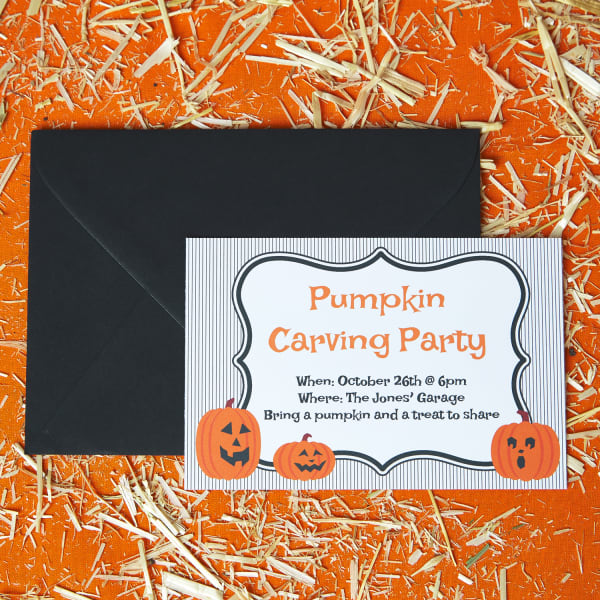 Draw people in with customized invitations printed on postcards (8386)
Before you start carving pumpkins you'll need your guests to carve out some time on their calendars. Send out these enchanting pumpkin-carving party invites to build anticipation and get everyone excited. It also plants a seed in their heads to begin imagining what kind of jack-o'-lantern they're going to make.
Click here for the pumpkin-carving party invitation template.
Name Badges for Pumpkin Carvers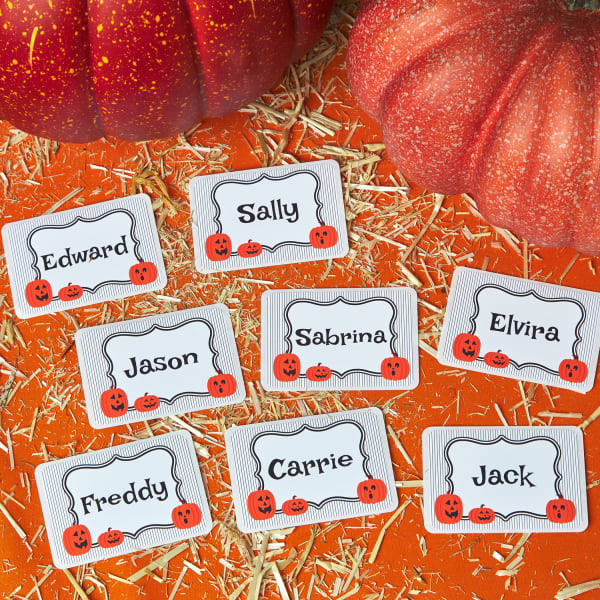 Make sure everyone knows each other with name badges (8395)
When your guests arrive, hand out custom-printed name badges so that everyone can quickly introduce themselves. You can even have an extra set for each guest to label their jack-o'-lantern. This will make it easier for everyone to match each pumpkin to its creator when it's time to vote for the best of show.
Click here for the pumpkin-carving party name badge template.
Pumpkin-Carving Party Snacks and Refreshments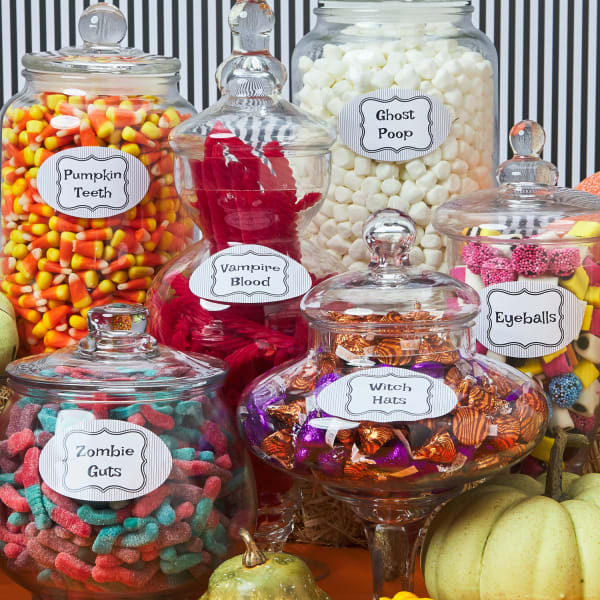 Give snacks a spooktacular touch with oval labels (22820/94056)
Before everyone starts getting their hands dirty, set aside some time at the beginning for people to enjoy some Halloween candy and refreshments. It's also a great way for everyone to mingle and give people time to get excited about their pumpkin-carving ideas.
Click here for the pumpkin carving party snack label template.
Transform drinks into witchy concoctions with removable labels (22827)
Add some festive fun to the drink table with clever Halloween-inspired labels. Customize each label with your own spooky names, puns and references to get everyone into the Halloween spirit.
Click here for the Halloween bottle label template.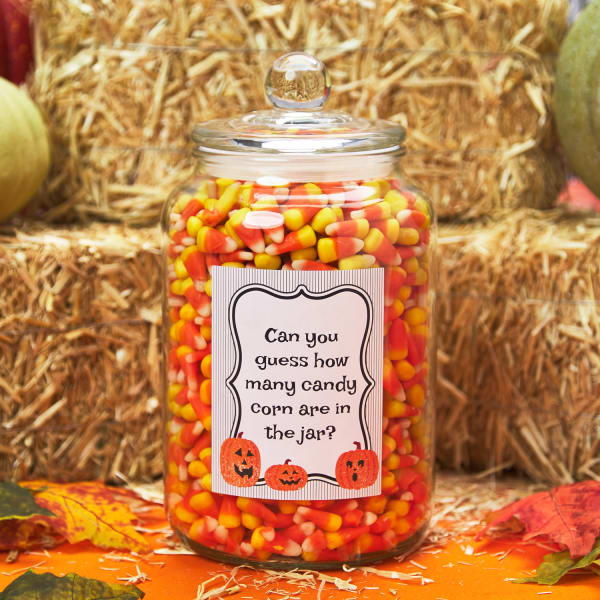 Turn a jar into a fun party game with shipping labels (6878/94254)
Also, try to think of some fun games to keep your guests engaged and entertained. Halloween-themed guessing games, riddles and jokes are easy ways to keep the party going.
Click here for the "Can you guess how many candy corn are in the jar?" label template.
Pumpkin-Carving Tools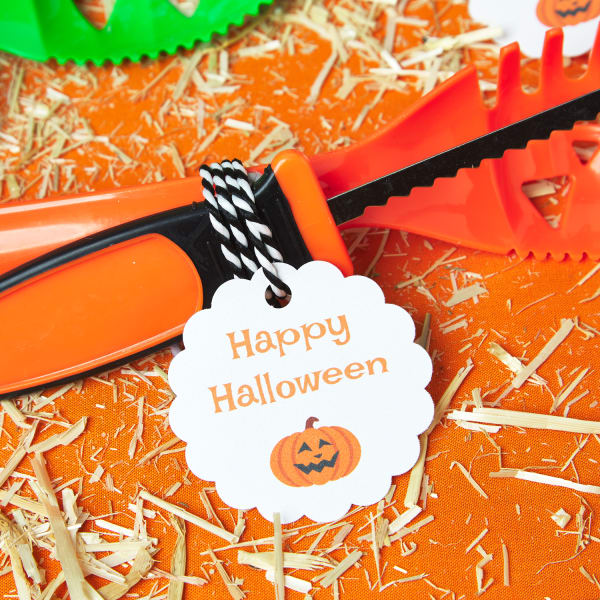 Scallop tags (80503) are a great way to spice things up with seasonal flair
The two basic tools your guests need to carve their pumpkins are a scoop and a serrated knife. There are definitely more advanced tools for experts but most people will work fine with a single knife and a large enough scoop. But you can also provide an advanced pumpkin-carving kit (including tools like sculpting blades, melon ballers and precision knives) for guests who are feeling fancy.
Click here for the "Happy Halloween" scallop tag template.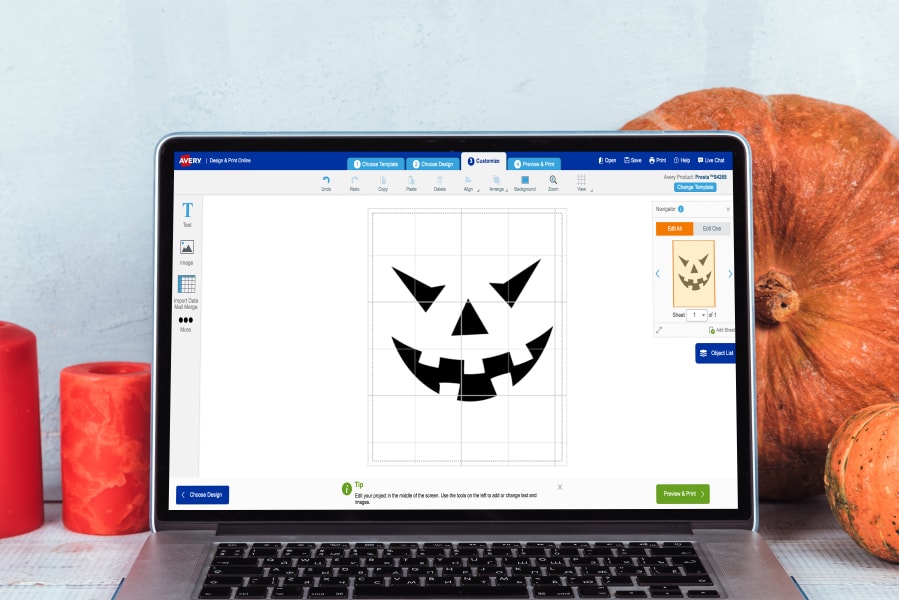 Full sheets of removable labels are also handy tools for creating instant pumpkin-carving stencils. Just print out your image onto the sheet, stick it onto the pumpkin and carve through the label. Once you're done, just peel the label away and start working on the finer details.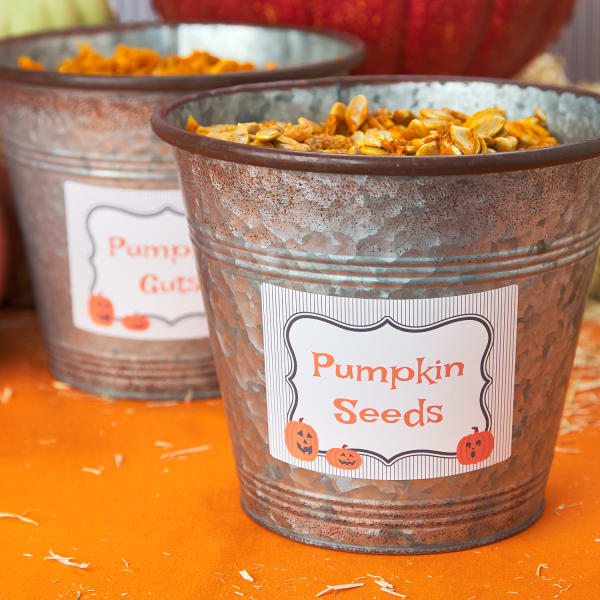 Keep things tidy with designated buckets for pumpkin guts using removable labels (22827)
When it comes to cleaning out pumpkin seeds and guts there's no such thing as overprotecting your work area. Establishing a carving area outside is the best option but you can also carve indoors by covering tables and floors with a very large amount of plastic sheets.
Also make sure to have buckets and containers ready for all of the sticky pumpkin bits that will be scooped out. You can even toast those pumpkin seeds later to create a tasty treat.
Click here for the pumpkin guts and seeds label template.
Awarding Prizes and Parting Gifts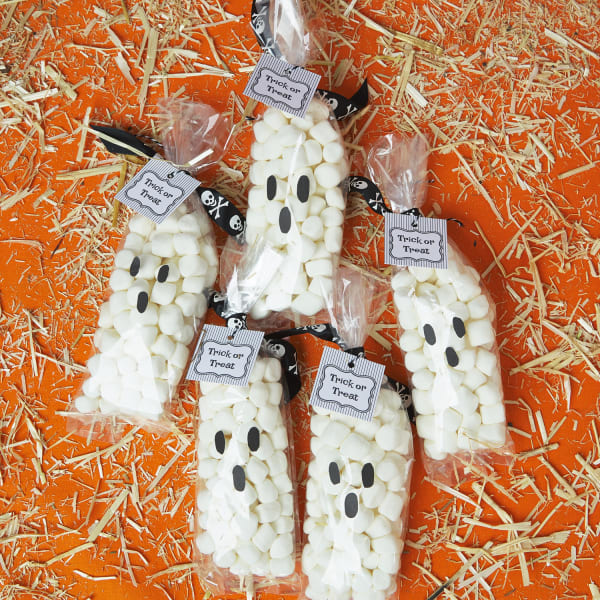 Craft ghastly party favors with printable tags (22849)
As soon as everyone's perfected their pumpkin, hold a friendly contest so that your guests can choose their favorite jack-o'-lanterns. Try to organize multiple categories like "Most Creative" or "Funniest Concept" instead of having a single winner for the "Best" jack-o'-lantern. Carving a pumpkin is hard work and it's only fair that everyone has a chance to get recognized for their unique takes.
Vote the old-fashioned way with paper ballots or give everyone small, color-coded dot labels to place on their favorites. Blank label sheets can be ordered in multiple colors, materials and quantities to work for parties of all sizes.
Once all of the votes are cast, it's time to tally the results and give the victors their hard-earned rewards. Small gifts, like bags of marshmallows made to look like ghosts, are sweet and easy for guests to take home. But you can also spellbind your guests with their very own boo bags filled with candy.
Click here for the "Trick or Treat" tag template.
Products used in this article:
4" x 6" Postcards (8386)
2-1/3" x 3-3/8" Name Badges (8395)
2" x 3-1/3" Oval Labels (22820/94056)
3-1/2" x 4-3/4" Removable Labels (22827)
3-3/4" x 4-3/4" Rectangle Labels (6878/94254)
2-1/2" Scallop Round Tags (80503)
8-1/2" x 11" Blank Label Sheet (94268)
1-1/2" x 1-1/2" Printable Tags with Strings (22849)
¾" Round Blank Labels (94504)