How to Create Hello Kitty Treat Flags
Sometimes it's the little things that make life more fun. Mini cotton candy sounds cute, right? But when you add a little flag featuring Hello Kitty... squeal! Here's how easy it is to create these fun flags to decorate your party straws, cones or favors on sticks. For more designs featuring our favorite friend with a heart of gold, visit the Hello Kitty template gallery.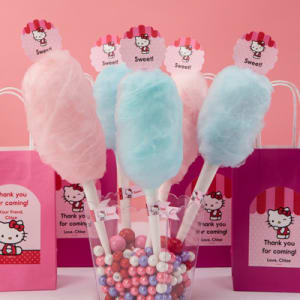 What you'll need
- Avery Adhesive Flags (41570)


Create your adhesive flags
Open the Hello Kitty adhesive flag design template on Avery Design & Print.
Hello Kitty Adhesive Flag Design Template
Let's add some text. Click the text box and enter your message. Don't forget there are two text boxes!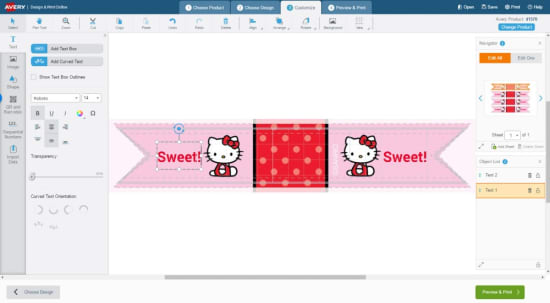 Use the text menu on the left side of the screen to change the look of your text. We selected "Report Rg" and made it bold.
To make the text appear on all the flags at once, select the Edit All tab from the Sheet Navigator on the right. Any text changes you make will apply to all the flags at once.
You can also personalize the text on individual flags when the tab is set to Edit One. Any text changes you make will only affect the flag you're working on.
Once you've finished adding your text, click the Preview & Print button in the top right corner of your screen to review.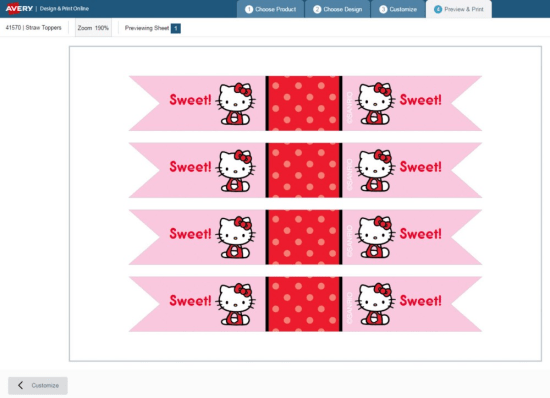 When you're ready to print, choose the print option on the right side of the screen. Then peel your Hello Kitty sticker flags and wrap them around the cotton candy cones.
For more designs, check out our Hello Kitty Printables page.