How to Create Cupcake Toppers for a Hello Kitty Party
How do you celebrate the happiest of birthdays? Throw a party with your friend Hello Kitty! And what's a party without cupcakes? Supercute cupcake toppers add a fun touch to your treats and are a cinch to make. We'll show you how to create these cupcake decorations and personalize them for all of your party guests. For more adorable Hello Kitty printables, visit our Hello Kitty templates gallery.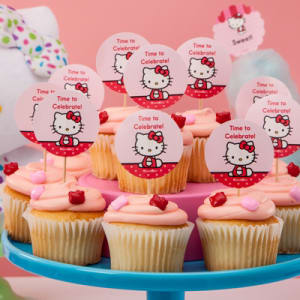 What you'll need
- Avery Round Labels (22807)
- Toothpicks


Create Your Labels
Open the Hello Kitty sticker label design template on Avery Design & Print. Hello Kitty Round Labels Design Template

Let's add some text. Click the area that reads, "Place Text Here," and add your message. We typed in "Time to Celebrate!"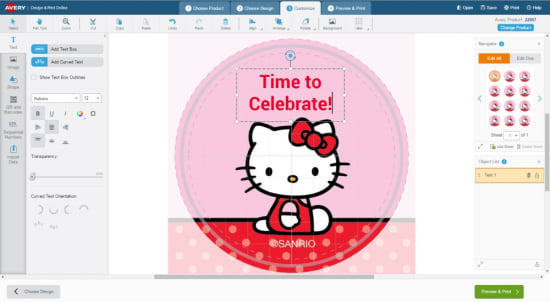 You can change the typeface and text size using the Text menu on the left. Let's change the typeface to "Report Rg" in 18-pt. size.
To make the same text appear on all the labels so you won't have to copy-and-paste or type it in over and over, select the Edit All tab from the Navigator on the right.
You can personalize individual labels when the tab is set to Edit One. Any text changes you make will only affect the label you're working on.
Once you've finished adding your custom text to your labels, click the Preview & Print button in the top right corner of your screen to review.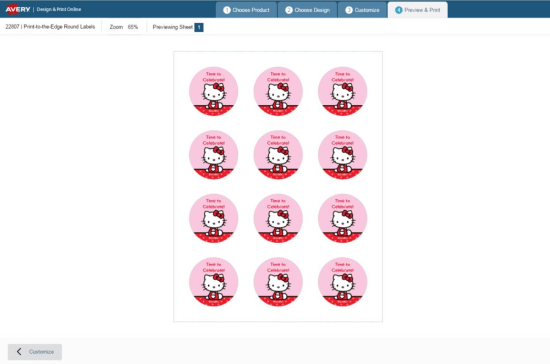 Now you're ready to print!
Assemble your cupcake toppers
Remove two labels and place them back-to-back with the pick in between. Press together to seal. Repeat for all your labels. And just like that, you're all set to decorate your cupcakes and other treats with Hello Kitty toppers you've created yourself!
For more designs, check out our Hello Kitty Printables page