Get Warm and Cozy with Hello Kitty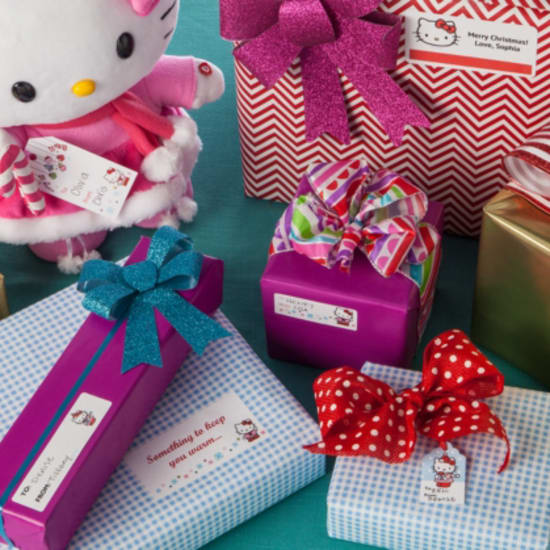 Hey, all you Hello Kitty fans—we've got a holiday surprise for you! Check out our collection of FREE holiday designs in Avery Design & Print Online featuring your friend, Hello Kitty. Design your own holiday labels and cards, party decorations, and more. Who can resist this cute little bundle of happiness?
1. Create the cutest gift tags and stickers.
We've got a variety of winter-themed Hello Kitty designs to choose from, and they're easy to personalize on Avery Design & Print Online. Wrap up your gifts with designs for labels in all shapes and sizes, and gift tags, too.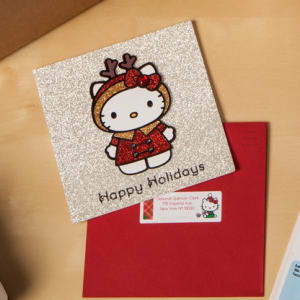 2. Address your holiday mailing
Sending out a bunch of holiday greetings? Let Hello Kitty lend a hand! With Avery Design & Print Online, just put your addresses in a spreadsheet, do a mail merge, and print out the address labels for everyone on your list.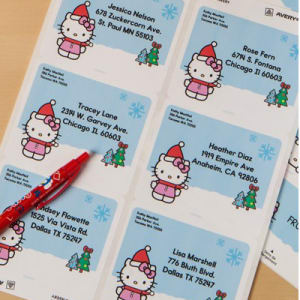 3. Make your shipping packages charming
Why send out your gifts in boring brown boxes? Create Hello Kitty shipping labels, and you'll add a friendly face to every package! Want to add a special delivery message? Use wraparound labels add a fun and festive touch to your shipping.
4. Host a superfun holiday party
Invite your friends over to the sweetest party in town! A cookie decorating party is easy to set up. Save time by making the cookies in advance. Add toppings to serving bowls. Then create tent cards to call out all the toppings.
5. Present the sweetest favors
Hello Kitty favor boxes are the perfect way to give out the sweetest treats. All you need to do is personalize the labels, print and gift. Have the happiest of holidays and have fun! For more ideas, pop over to our Hello Kitty page!