Fun Family Staycation Ideas
Going on a family getaway doesn't have to require travel. You can still unwind and escape the daily grind with the family by taking a fun-filled staycation instead. Imagine—no airport hassles or hotel check-ins to deal with, and you'll get to stay in the relaxing comfort of your own bed at night. Check out these family-friendly staycay ideas to get you inspired.
Enjoy a picnic in the park
When's the last time you went to the park just to relax? Hang out with your family with all the picnic essentials: blanket, picnic basket, kite, football and a good book. Oh, and don't forget the bug spray!
Just for fun: Create charming customized boxes of munchies. Go to Avery Design & Print Online to personalize the pinwheel tags. Print them out on printable tags, then wrap each snack box with ribbon (like a gift), and attach the tag to the ribbon with the included string. Call out special orders prepared to meet dietary restrictions (such as "gluten-free" or "no onion") with labels for easy identification. For straw sippers, print on round labels, then attach back-to-back around each straw.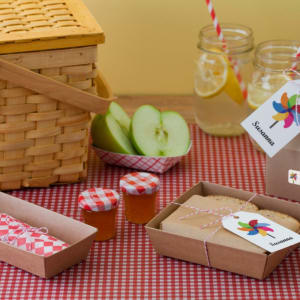 Throw a block party
Supersize your next ice cream social or have a monster barbecue party! Pick a date that works for your neighborhood and use a sign-up sheet to determine who brings what to the event.
Just for fun: These charming frozen treat invitations also work great as save-the-date reminders. Customize the message on Avery Design & Print Online, print on arched labels, and assemble these paper pops by placing two labels back-to-back around a wooden craft stick (look for the short sticks at your local crafts store). For food markers, print on round labels and place back-to-back around toothpicks.
Camp out in the backyard
Join the lightning bugs on a clear night, when the weather is just right, and experience a night out in your own backyard. Bring on the s'mores and sleeping bags, the flashlights and ghost stories. Even the family dog can join in on the jamboree under the stars.
Just for fun: Little campers will have fun preparing for their campout with personalized labels to attach to their gear. Personalize and print using Avery Design & Print Online and round labels for cute and colorful removable stickers.
Who needs a traditional vacation to have a great time this summer? Find out how much fun a staycation can be instead. Even the planning can be a lot of fun—one idea is to assign a day for each family member to choose what the family will do that day. A dry erase weekly calendar can be used to organize your staycay—even if it's to jot down a hint of what's in store that day to build anticipation for your family's enjoyable non-getaway.