Five Things You Should Be Doing at the Tradeshow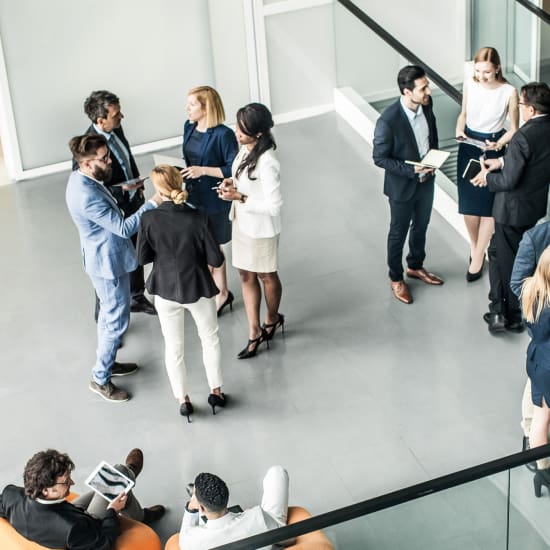 There's the mingling. The handshaking. And, erm… the judginess. When you're working the tradeshow, first impressions can also be the last. Whether you're walking the floor or manning a booth, take note of these tactics to make the most of your tradeshow presence.
1. Hone in on your prospects.
Who's coming to the tradeshow? Get a copy of the pre-registration list from the event organizer for a sneak peek. Then narrow it down to a list of potential customers you definitely want to meet, and schedule mini meetings during the tradeshow or after hours.
2. Offer something of value.
There are just too many booths and not much time. So make your booth engage the crowd with interactive activities, educational videos and demonstrations that are worth their while. And offer a takeaway they can actually use—a whitepaper on industry trends, or product samples labeled with your company logo and contact info can continue to promote your business long after the tradeshow is over.
3. Train your booth staff.
In addition to setting up your business materials, getting your booth ready also means training the crew to handle frequently asked questions from attendees. Be sure to set up a shift schedule so there's a representative available at your booth at all times. And make sure everyone working at the booth is friendly and approachable—not busy with their smartphones.
4. Create a refreshing retreat.
Tradeshows can be overwhelming. What can be more inviting than a booth offering refreshments and even a comfy chair? Provide beverages and snacks branded with your business logo using custom labels for a professional look. They're easy to create with the free Avery Design & Print Online software.
5. Don't forget the follow up.
Is there a rule about when to follow up? The best thing to do is to ask your business contact when would be a good time to reach them in the coming week or two. Before parting, give them information about your business they can take back to their company and share with their team. You might also consider including a promotional offer valid only for tradeshow attendees. Then be diligent and make that call!