Five Steps to Creating a Captivating Promotion
Promotions can help you advertise your business, call attention to something you're selling, and garner publicity. Whether you're promoting an offer from your company or a special event such as a fundraiser, it's often the delivery of your message that needs to stand out so people take notice. Though you may know what you want to say, do you know how to say it to get people interested? Check out these five steps on how to put together a message to make your promotion more effective.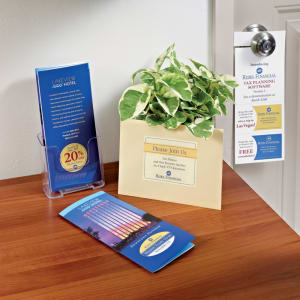 1) Grab their attention with your headline
Quick—you've only got a few seconds to capture people's attention. What should you say? Use a short headline that's clear, provokes interest, and makes them want to learn more. As an idea starter, consider an offer that:
Will improve their situation (save time, make life easier) or themselves (look better, feel better)
Evokes emotion (entertaining fun, feel-good cause)
2) Keep their interest
Okay, you've got their attention, now you have to deliver on the promise in your headline. As you provide more detail about the offer, write as if you are speaking to the person ("you")—not to a demographic ("for people over 50"). Think, "what's in it for them?" and make your message show you understand them and their situation.
Use imagery to paint a picture in their minds, or tell a relatable story
Don't be long-winded—keep your message to the point
3) Create a compelling offer
Now that you've shown people that you understand, it's time to tell them how you can help make things better and/or provide something of value to them. Explain the benefits of your product/service or what your special event is trying to accomplish, and what you're offering to entice people to respond.
Offer them something that's risk-free or with a money-back guarantee
Give them something in exchange for their attendance and/or participation
4) Tell them what to do to receive the offer
When people are interested in what you're offering, they're ready for the next step—to take you up on your offer. Just tell them what to do next (or as they call it in the business world, provide a "call-to-action"). Here are some suggestions:
Give them a phone number or website they can go to for more information, make a reservation, or to order
Offer a coupon they can bring in to your store to redeem
Provide a raffle ticket to enter a drawing at your fundraiser
5) Give them a reason to believe
Make people you're speaking to feel valued and appreciated. If they are learning about you for the first time, they are taking a risk—whether they're trying out your product or service, or giving up their time to participate in your event. Give them some reassurance by standing behind your offer.
Give them a sneak peek of activities at your event so they know what's in store (if you are hosting a fundraiser)
Now it's time to get your promotional message out there! It's easy to put together your own promotion materials right from your desktop with easy-to-use Avery promoting products, including door hangers, brochures, flyers and signage. Avery products are simple to create with free design templates on Avery Design & Print Online. Upload the logo for business or organization, create your compelling message, and print. You'll soon be on your way to getting the word out and building excitement!