Did Somebody Say "Pie Bar"?
You are perfectly normal if the thought of holiday entertaining stresses you out a bit. Hosting a party can be a little overwhelming. By the time you get to dessert, you're so ready for a break but don't want your hostly duties to slide. So may we suggest a few hacks to have up your sleeve?
There's always room for pie
Cut yourself (and your oven) some slack. Make the dessert a potluck event and ask guests to bring their favorite pie. Whether they bring an old family recipe or something from a shop, the more pie, the merrier! Complete the set up with custom tent cards and your favorite fall designs in Avery Design & Print.
Keep it simple with no-wash cutlery
No need to freak out about washing all that silverware—make it easier on yourself with recyclable cutlery. Bundle up grab-and-go sets with napkins and wraparound labels. Makes it easier for guests to carry back to their seats or take with them if they're hitting the road. And once they're done with them, so are you.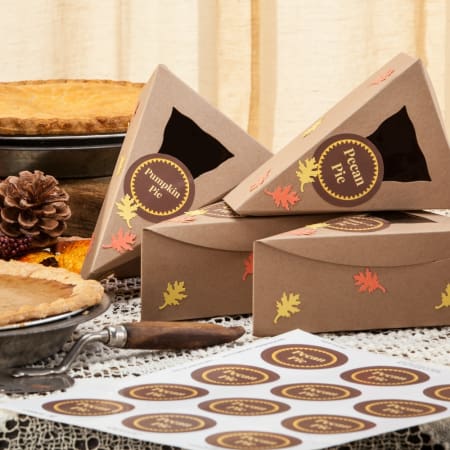 .
You want a piece of me?
When the evening comes to a close and it's time to wrap everything up, pack up the leftover pie and label them (either with the type of pie or the guest's name) so guests will have something to take home and enjoy later. Take-out boxes also make cleaning up a cinch. So pie not?