Celebrating Great Labels with Green Mountain Mini Baked Donuts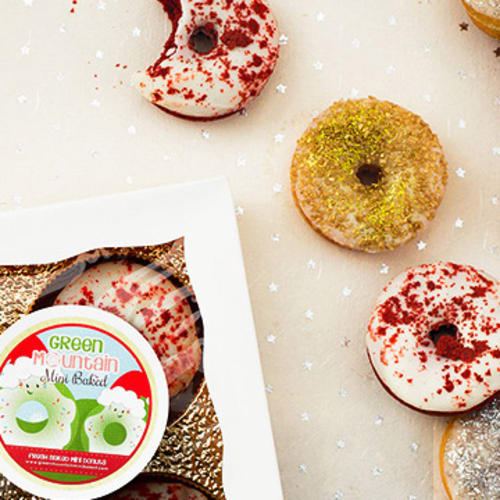 Debbie Mast knew she had something special when her homemade baked donuts were always a hit at parties and get-togethers, and people would ask if she could make them for an upcoming birthday or special event. In an effort to make ordering and payments easier for friends, Mast opened an Etsy shop, and now, more than 2,000 sales and hundreds of five-star reviews later, Green Mountain Mini Baked Donuts is a hit.
The donut idea was inspired by her kids, who love cupcakes and donuts, but they never eat the whole thing. After spotting a mini donut pan in the store one day, Mast realized she could create a healthier version of the sweet treat by making them smaller and baking them instead of frying. And the smaller size was perfect for little hands and appetites. She tweaked a few recipes to create her special cake-like donuts, and the journey began. Mast now offers a wide variety of flavors and decorations to please everyone's palate for any occasion.
What makes Green Mountain Minis different? First, they're adorable and they bring an instant smile to everyone's face. Second, is their taste; they're three little bites of perfection. Local Vermont ingredients and great topping combinations are guaranteed to deliver deliciousness. And because they're baked and not fried, they're healthier, last longer and can be stored up to a week. They're great to stack, bag, box, put on a stick or whatever you can imagine. The possibilities are endless.
Mast uses the professional printing services from Avery WePrint™ for her branding and ingredient labels, as well as Avery printable labels, which she can print from home in a pinch if she runs out. During the holiday crush, along with creating fun, festive donuts, Debbie has also designed her own holiday-themed branding and ingredient labels. Using the free holiday templates from Avery WePrint, she was able to take a design created by an outside agency and personalize with the free holiday designs from Avery.
"I am so happy with Avery WePrint labels. I was using a different company, but decided to try Avery, and I love them. I love how you can customize all the finishes. I will continue to use them from this day forward."
- Debbie Mast, owner of Green Mountain Mini Baked Donuts
Mast also offers up some great advice for businesses just getting off the ground that are trying to create their own branding labels.
"Play around on avery.com," she said. "There are so many ideas and examples. Just see what works best for your business."