Be More Organized: 4 Good Habits You Can Start Today
Get a fresh new start with home organization tips that help you stay organized all year
As each year comes to a close, a crisp new page in your life opens up as you begin something new. A new year is a fantastic opportunity to assess your routine and find ways to become healthier and more efficient. Make sure that you're starting the year in the right direction with these 4 home organization ideas.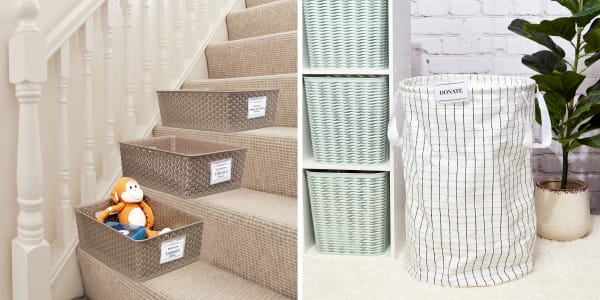 Easily create your own organization boxes and donation bags with
clip-style name badges
(Avery 74651).
1) Make organizing personal clutter a routine
Good home organization habits are easier when they're part of your routine, but a new habit can quickly feel like a chore if you try to force it into your schedule. The best way to make organization a natural part of your day is by beginning with small steps that are easy to maintain, having specific goals and committing to a timeframe.
For example, you can set up a basket for every family member to create designated drop spaces for their clutter. This will make it easier for everyone to get into the same routine of keeping their clutter organized and away from common areas.
It's much easier for kids to understand "Take your basket of items to your room whenever you go upstairs" rather than something more open-ended like "Take your stuff to your room." If your home doesn't have stairs, you can also place baskets along the wall leading to their bedrooms or in another prominent place.
2) Stop re-organizing unused items — donate more often
Digging through your closet or pantry to organize them once a year can be a huge undertaking. Not only is this process time-consuming and tedious, it can also lead to endless organization and reorganization of items that you will never use.
Setting up a donation basket for clothing in the living room, their bedrooms or near the laundry area is a fantastic way to encourage your family to let go of things they no longer need. You can also do the same with a basket for canned goods and non-perishable food in the kitchen to keep your pantry easier to navigate.
Donation baskets in visible areas also help remind your family, as well as yourself, to be more mindful of what you have and to help others who need assistance. Once the baskets are full, make a quick drop off to a local donation center. When it comes time to do a deep spring cleaning, you'll be surprised how much easier it will be to tackle your family cleaning schedule.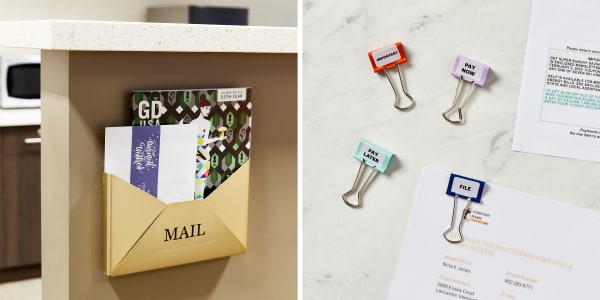 Make your own indoor mailbox with
clear sticker paper
(Avery 53203) and easily tag binder clips with
small removable labels
(Avery 5418).
3) How to organize paper clutter before it takes over
You might've noticed a running theme when it comes to healthy home organization: DON'T WAIT. Just making sure to take care of things as they happen, rather than waiting for the "right" time, will make your life so much easier. And avoiding procrastination is especially true for mail and documents since they appear almost daily and will pile up faster than you think.
What's the best way to handle junk mail? Rip it up and toss it as soon as it comes in. The rest of your mail can go into a separate mail container in your home. You can then label clips and use them to sort more important mail so that you won't miss critical documents like bills.
Once you're finished with your mail, decide what will need to go into long-term archiving or throw them away as soon as you don't need them. You can also easily reduce your paper waste by checking to see if you have paperless bill options as well.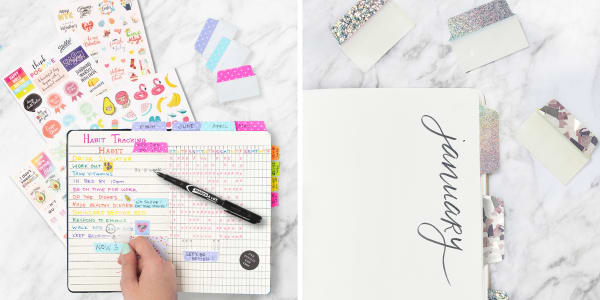 Add extra pops of color to your planner and habit tracker with a beautiful array of
planner stickers
and
Ultra Tabs
.
4) Track your home organization goals & progress
Another way to stay focused is by using visual reminders like lists, chore charts and planners. Planners are especially useful since they can also double as a creative outlet so that you can decompress while organizing. It's much easier to stay efficient when you can also express yourself and explore color coding strategies at the same time.
Try creating your own habit tracker in your planner to check off every goal you complete each day. This is a great way to mark the tasks you have accomplished while also being able to appreciate how many days you were able to be 100% efficient back-to-back.
You can draw your own habit tracker in your planner by setting up columns and rows for tasks and dates. You can also try customizing our habit tracking label templates for small removable labels to add to your design.
This is your year to get organized! Explore more organization ideas
Hopefully our home organization ideas provided a few easy starts to help you improve your home. You can also explore our many other organization ideas to get inspired and begin creating your own routines and plans.
You know your home better than anyone and the best home organization habits will be the ones that only you can imagine. It might be intimidating to stare down a new path, but you will be thanking yourself so much in a year.
Supplies to recreate our home organization ideas