Avery® Mobile Design Software Puts Customizable Templates at Your Fingertips
Avery Products Corporation, the world's largest supplier of labels and short-run label printing and software solutions, now makes it convenient and easy to personalize Avery labels, cards, tickets, t-shirts and tags from all your mobile devices. The company announced the latest version of its Design & Print software that allows users to take their custom projects on the road and work on them anywhere.

With the new software users can:
Upload and edit images from phones, the Avery image gallery & from social media
Browse Avery professional design galleries for inspiration
Open and edit saved projects from any device
Easily personalize a blank or professionally designed template
Print your projects yourself or let Avery WePrint™ professionally print them for you
"We know that inspiration can strike at any time. So we've made it easier for consumers to work on their Avery projects whenever and wherever it's convenient for them," said Allison Phillips, Vice President and General Manager, Avery Printable Media Group. "They can start a project on their laptop at home or work, save it to their account, and then re-open it on their phone. Whether they're in a car waiting for practice to end, commuting on a plane or train, or waiting for an appointment, users can browse, personalize, save, print and email their Avery projects from almost anywhere."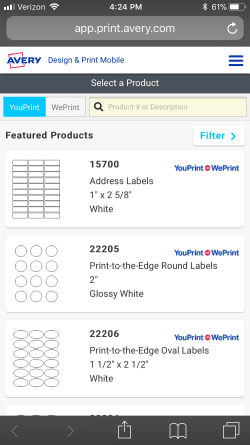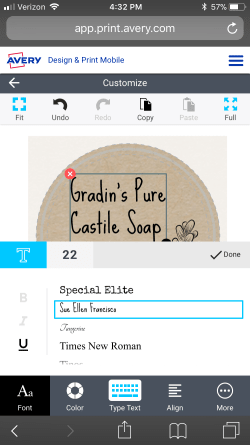 Along with being able to print to a wireless printer from their mobile device, users can also email a PDF of their finished project to another device for easy printing at another time. From the event planner that needs to create custom wedding favors and invites, to the facilities manager that needs shipping labels for a mass mailing, to the store owner that wants personalized wine bottle labels for its grand opening, Avery Design & Print is available whenever and wherever consumers need it.
To learn more visits avery.com/software/design-and-print.
About Avery Products Corporation
Avery Products Corporation is the world's largest supplier of labels, specialty converted media and software solutions to enable short-run digital printing in businesses and homes alongside complementary products sold through distributors and mass market retailers under the Avery® brand. Avery Products Corporation, a division of CCL Industries, is based in Brea, California. For more information about Avery products, visit avery.com.
About CCL Industries
CCL Industries employs approximately 20,000 people operating 167 state-of-the-art manufacturing facilities on 6 continents with corporate offices in Toronto, Canada, and Framingham, Massachusetts. CCL is the world's largest converter of pressure sensitive and extruded film materials for a wide range of decorative, instructional, functional & security applications for government institutions and large global customers in the consumer packaging, healthcare & chemicals, consumer electronic device and automotive markets. Extruded and laminated plastic tubes, folded instructional leaflets, precision decorated and die cut components, electronic displays, polymer bank note substrate and other complementary products and services are sold in parallel to specific end-use markets.
Avery and all other Avery brands, product names and codes are trademarks of CCL Industries, Inc. All other company and product names may be trademarks or service marks of their respective owners.
Contact:
Avery Products Corporation
714-674-8500
press@avery.com