4 Quick Right-to-Know Updates for Your SDS Binder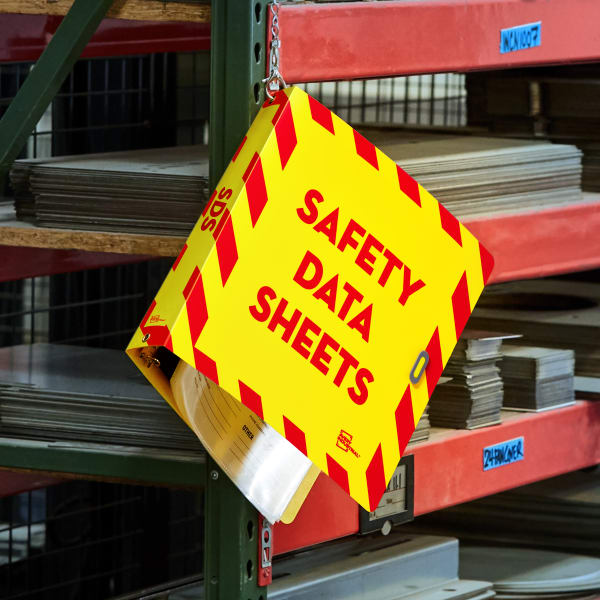 Safety data sheets and SDS binders (formerly MSDS) are an important part of HazCom that upholds worker's rights when it comes to chemical safety information. Understanding OSHA SDS requirements is crucial to workplace safety and staying compliant.
SDSs are covered under hazard communication standard 29 CFR 1910.1200, also known as the right-to-know law. It's called this because the spirit of the law is that employees have a right to know when they're working with hazardous chemicals and how to do so safely.
These four simple SDS binder updates ensure workers have easy access to SDS and help them to better understand chemical safety.
1) Include an SDS binder update tracking sheet
Identify and solve SDS problems before they become expensive citations. No one wants to be surprised with missing or out-of-date SDS on inspection day.
The best way to do this is by creating, and adhering to, a regular schedule for auditing and updating your SDS binder. A simple cover sheet for tracking SDS audits and updates can be added to your SDS binder in minutes.
Auditing workplace chemicals 1-2 times per year is recommended to help you catch any missing SDS (or out-of-date MSDS) that should have been updated by the supplier and could lead to fine. Considering that HazCom violations have been in the top 3 of OSHA violations for the last decade, coming in at No. 2 in 2019, it's worth it.
2) Organize for quicker safety data sheet access
Ensuring employees have easy access to chemical safety information is the cornerstone of OSHA laws regulating SDS. It's also just good common sense in case of emergency. Keeping your SDS binder organized helps workers find the exact information they need when it matters most.
Use binder dividers with tabs to organize SDS alphabetically. Make sure the dividers are durable plastic so they don't get torn out with rough handling. Likewise, sturdy plastic sheet protectors should be used to keep SDS from getting dirty, torn, ripped out of the SDS binder or otherwise damaged.
3) Add printed OSHA supplements to SDS binder pockets
Helping employees educate themselves about chemical safety upholds the spirit of right-to-know laws and increases overall workplace safety. OSHA even provides free supplemental publications on a variety of safety topics for just this purpose.
OSHA safety publications are accessible in both HTML and PDF format, such as a helpful HazCom FAQs. This type of information is not strictly required on chemical safety labels or safety data sheets, but it does help keep workers informed.
Printed OSHA PDFs are incredibly easy to tuck into SDS binder pockets for employees to use at will. Or they can be inserted at the back of the binder using plastic sheet protectors.
4) Use QR code labels to supplement SDS information
Using QR code labels, you can provide direct links to online supplemental information right from your SDS binder. While QR codes may sound fancy, they're just a type of two-dimensional barcode and can be printed using the same method as any other barcode.
QR codes labels give your employees unparalleled access to supplemental information online because they can be scanned from any common smartphone. Whether it's your company HazCom policy, online versions of safety data sheets or OSHA supplemental publications online (HTML format), your employees can get the information right on their phone.
How to Make a QR Code Label
To make a QR code label for your SDS binder all you need is design software with a barcode generator, durable labels and a laser printer.
1) Log in or sign up for a free Avery Industrial account to access our online software with barcode generator, save your work and reprint as needed. Avery Industrial design software is cloud-based so you can access your saved projects from any device.
2) Use the Presta® number of the labels you're printing on to find the right template and follow the steps on screen to choose a design.
3) In the label editor click the "More" button for options to add a QR and barcodes to your label.
4) Follow the prompts in the dialogue boxes to select the "QRCode" format, set the code type to "URL" and paste in URL you want to link to with your QR code.
5) Click "Finish" to apply the code to your SDS labels. Edit the design as needed, whether it's adjusting QR code placement, adding custom text, colors, graphics or other design elements.
NOTE: Adjusting QR code size is not recommended for beginners and all barcodes work best in high contrast. For best results, print QR codes in black on a bright white background.
6) Once you've finished editing your SDS label, follow prompts to "Preview & Print" labels as usual.
For more resources on creating and printing barcodes on site, check out one of our helpful video tutorials. See how to use our QR code generator to complete this project, or get in-depth instruction for adding barcodes to asset tags.