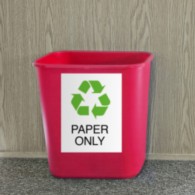 Create Your Own Recycling Station

These do-it-yourself recycling bin labels make it easy to "stick" to doing your part for the environment—and it can help encourage others to make that eco-effort, too. In just minutes you can set up your own recycling station at your home, office or school by attaching these labels onto large bins or containers. Don't forget to contact your local recycling center for information on getting recycled materials picked up or dropped off. Recycling can help save the planet and when you receive the cash redemption value, it can even put some money in your pocket.
Instructions:
Create a separate label for each bin and customize it by entering the type of material that will be collected in each bin, such as "Aluminum Cans," "Glass," "Plastic Bottles," or "Paper."
Instructions:
Position each of the labels onto their respective recycling bins. Now you're ready – and set – to recycle!