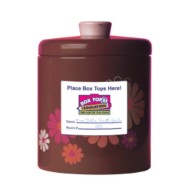 Decorate Box Tops Collection Containers

These bright and colorful Box Tops labels can brighten up any Box Tops collection box or bag, and help people easily identify where Box Tops coupons are being collected.
Instructions:
Go to
Avery Design & Print Online

- Select Create by Product, then enter your product number and click Next.
- Under Select Category, click on Box Tops for Education, then click on the design of your choice.
Instructions:
Using the
Quick and Simple
editing option, you can edit and format your text and graphic or choose to leave the design as is. Click
Next
.
Instructions:
Review your project to see how it will print. If additional changes are needed, click
Edit Your Content
or
Change Font and Style
. When your project is ready to print, click
Next
. Print as many Box Tops Collection Labels as you need on Avery White Shipping Labels.
Instructions:
Attach your labels to Ziploc
®
bags, collection boxes or jars.
Helpful Tip:
When you're ready to turn in your coupons, make sure you write down the number of coupons you've collected on your label for easy counting. Your Box Tops coordinator will appreciate it.