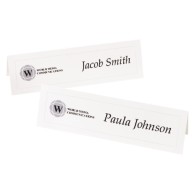 Plan an Effective Meeting with Tent Cards

Make your next meeting more effective when you plan where you want attendees to sit for maximum participation.
Instructions:
Import your company logo. See Helpful Hint.
Instructions:
Type in each attendee's name. Use multiple sheets as needed.
Instructions:
To insert a photo or graphic, such as the company logo:
1. Open NEW document.
2. Select photo from file: Insert>Picture>From File, and click to insert.
3. Choose "Format Picture" icon. From the dialog box, select the "Layout" tab.
4. Click "In front of text" option.
5. Copy and paste your image into the brochure, and size it to fit. Your image will paste on top of any other graphic or text and allow you to move it and resize it if necessary.