Makeover Takeover: Shine Essentials
Sometimes, a better label is just a few clicks away. With expert graphic designers at the helm, we helped small business owners revamp their original product labels to give them a fresh, new look.
Who doesn't want to live better? That's why Tracy Roberts, owner of Shine Essentials, created her all-natural health and wellness products—to help people feel calm, whole and connected.
The Shine Essentials pure massage oil needed a new look that would emphasize the quality ingredients found inside.
Tracy uses premium ingredients in her products, but her original massage oil label didn't emphasize the quality contained inside. Our goal was to create a label to showcase the superior nature of her product without sacrificing its wholesome charm.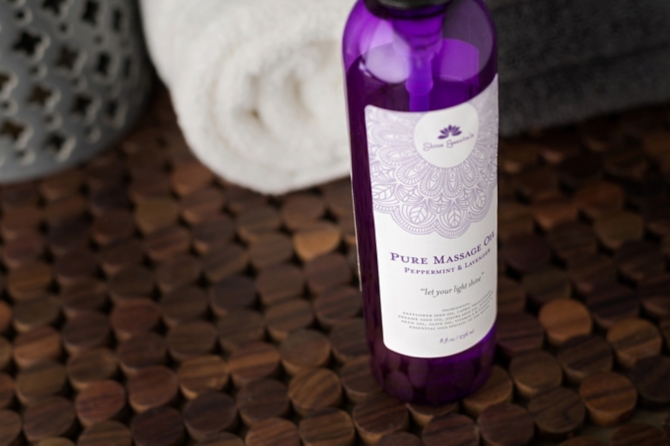 Using white space can make your entire design stand out on your product label.
A lighter, more versatile label design
The original label was dark and didn't stand out from the bottle, so we replaced it with a glossy white film label. The film material is durable and waterproof—ideal for health and beauty products such as Tracy's massage oils. And with the glossy finish, it adds a premium touch. Should Tracy switch her products to clear bottles, the label design can be printed on a clear film for a seamless, printed-on-the-bottle look.
Organize the product label messaging
To prioritize the brand name without increasing the size, we shifted it upward—a common design tactic among brands. To emphasize the type of product, we magnified and centered "Pure Massage Oil," with the secondary information, the scent, right below. The tagline, "Let your line shine," is placed underneath, and adds to the overall product differentiation.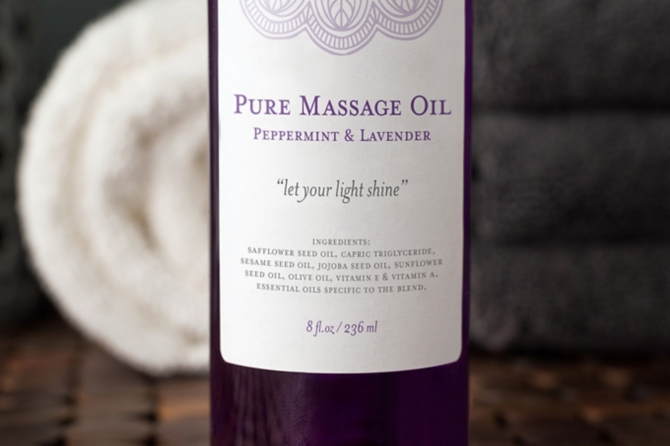 The organized label design effectively displays the product name, tagline and list of ingredients.
Imagery that conveys emotion
Paisley prints are common throughout the Shine Essentials brand, so we integrated this design element with a more cohesive look. Instead of using the two free-floating paisleys, which divided the overall label design, we opted for one larger element that extends into the frame and forms a circle around the brand name, creating a calming ripple effect. This helped Tracy's label appear less fragmented—a nod to the brand's focus on wholeness.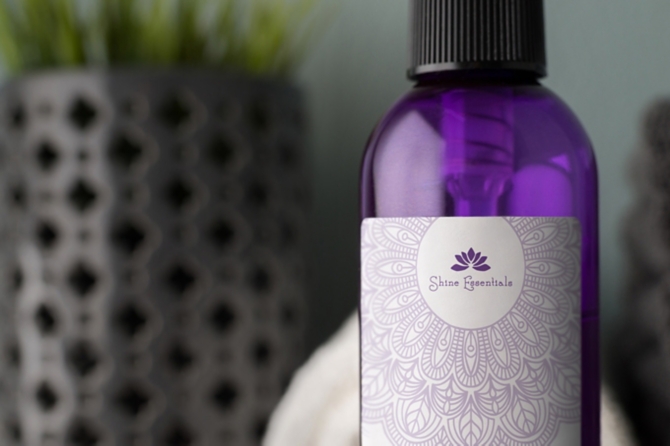 If you're not completely sure about your label design, print a small quantity and test out the labels on your packaging.
Showcase the high quality—without being expensive
Thanks to the light, bright colors and use of white space, the glossy white label visually pops on the bottle—and on shelves. It gives the product an elegant, high-quality look, without being expensive.
"My favorite aspect [of] the design was the pattern," says Tracy. And, she was happy to find her favorite color, purple, incorporated into the label. "I also love the logo with the image around it—I feel like it ties perfectly into the line," she says. "I believe [this label] will help my brand grow, and help me stay focused and consistent."
Learn more about Shine Essentials at shineessentials.com. To get started designing your own product labels, visit avery.com/weprint.