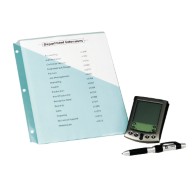 Use Binder Pockets for Reference

Frequently used documents stay neat and tidy in these handy binder pockets. Do you use a personal digital assistant? The Double Click™ pen works with your PDA to track all the important details.
Instructions:
Organize paperwork that you'll need ahead of time for when you're out of the office.
Instructions:
Place file folders into the top pockets of your briefcase.
Instructions:
Take along extra file folders and labels to organize new documents as you receive them. When you return to the office, simply file them in your file cabinet.