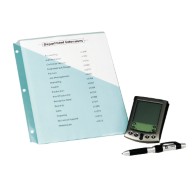 Use Binder Pockets for Reference

Frequently used documents stay neat and tidy in these handy binder pockets. Do you use a personal digital assistant? The Double Click™ pen works with your PDA to track all the important details.
Instructions:
Organize paperwork that you'll need ahead of time for when you're out of the office.
Instructions:
Place file folders into the top pockets of your briefcase.
Instructions:
Take along extra file folders and labels to organize new documents as you receive them. When you return to the office, simply file them in your file cabinet.
This review is from AVERY Use Binder Pockets for Reference:
these are the greatest organization tools ever. I can keep a binder full of information and by organizing with the binder pockets allows me to save space and be more efficient in finding my info.