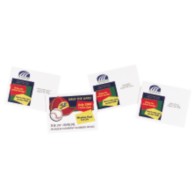 Use Save-the-Date Postcards for a Great Turnout

Before your next event, send out Save-the-Date Postcards to everyone in the office. It'll remind them of the upcoming date and get them excited about the big day.
Instructions:
On the front of the card, type in the date, time and location of the event. On the back of the card, import
your company logo and add your specific event details. You can type in each recipient's address on individual postcards or use mailing labels and apply after they are printed.
Instructions:
To insert a photo or graphic, such as the company logo:
1. Open NEW document.
2. Select photo from file: Insert>Picture>From File, and click to insert.
3. Choose "Format Picture" icon. From the dialog box, select the "Layout" tab.
4. Click "In front of text" option.
5. Copy and paste your image into the brochure, and size it to fit. Your image will paste on top of any other graphic or text and allow you to move it and resize it if necessary.