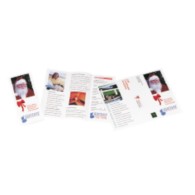 Make a Holiday Customer Newsletter

Let your customers know what's coming up in the year ahead with a festive newsletter.
Instructions:
Compose your copy announcing upcoming events or a special offer and add to the template on the outside and inside of the brochure. Insert photos to accompany your copy and import your company logo.
Instructions:
Type in your customers' names and addresses. Print on Avery Mailing Labels and apply to the mailing panel of the brochure. Send to your customers and watch the new business roll in.