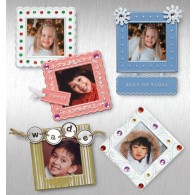 Mini Frame Magnets

Create a personalized magnet frame to spotlight your favorite photos at work, on your fridge or in a school locker.
Instructions:
You'll need the following:
- Making Memories
®
Metal Frame Combo
-
Avery Magnet Sheet
(3270™ or 53208™)
- Personal photo
- Glue or tape
- Ribbon, twine, rhinestones, metal letters, snowflake 3-D stickers (optional)
Instructions:
Using your favorite software, insert your photo and size to about a 2¼" square. Duplicate as many as you need.
Instructions:
Print photos onto Avery Magnet Sheets. Cut out the photos and adhere behind the mini-frames using glue or tape.
Instructions:
Decorate the frames using the embellishments of your choice. Here are some ideas:
- Use stamped letters strung with twine to spell a name
- Use short pieces of ribbon to hang a small rectangle from the Making Memories
®
Frame. Embellish with two 3-D snowflake stickers.
- Decorate the frame with rhinestones.
- Create a tag with a descriptive word, add a ribbon through a pre-punched hole, and attach to the frame.