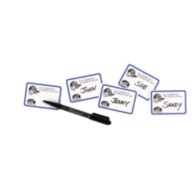 Greet Guests with Name Badges

It's easy to remember people's names when you use name tags or name badges at events.
Instructions:
Type in your event information.
Instructions:
Insert a company logo or other graphic. See helpful hint below.
Instructions:
Print several sheets of
Avery Name Badges
and have them available at the event. Provide attendees a
Marks-A-Lot Marker
so they can fill in their names when they arrive.
Instructions:
To insert a photo or graphic, such as the company logo:
1. Open NEW document.
2. Select photo from file: Insert>Picture>From File, and click to insert.
3. Choose "Format Picture" icon. From the dialog box, select the "Layout" tab.
4. Click "In front of text" option.
5. Copy and paste your image into the brochure, and size it to fit. Your image will paste on top of any other graphic or text and allow you to move it and resize it if necessary.