Build-a-Monster Magnets

Create your own family of monsters for the kitchen fridge. Just print out these magnetic monster templates on Avery Magnet Sheets, cut out and let your kids bring their monsters to life! With body parts to mix and match, kids will have fun putting together a creature that's all their own. For a fun twist, crop and print headshots of family and friends so kids can create monsters with a familiar face.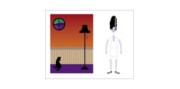 Instructions:
Carefully cut out the monster parts.
Instructions:
Place the magnetic monster body parts on a metal surface such as a refrigerator. Let your kids have fun mixing and matching the different body parts to create their own unique monster.