How to Make Zombie Party Invitations and Address Labels
Planning a bash for all things that go bump in the night? Create a party to dismember with spine-chilling invitations and address labels from Avery. Choose from a throng of free zombie apocalypse design templates on Avery Design & Print, personalize with your party details and print. It's so easy, even a zombie can do it! We'll show you how, step by step.
First, let's customize the front of the card. For the text, we chose the creepy-looking "Butcherman" font. (We also saw a cool font called "Creepster" which we'll save for another time.)

To create the drop shadow effect, click the "copy" and "paste" buttons found on the top toolbar. Change the text color in the back to white. To arrange the order of your layers, use the menu on the left and click the "Arrange, Rotate, Align,…" tab.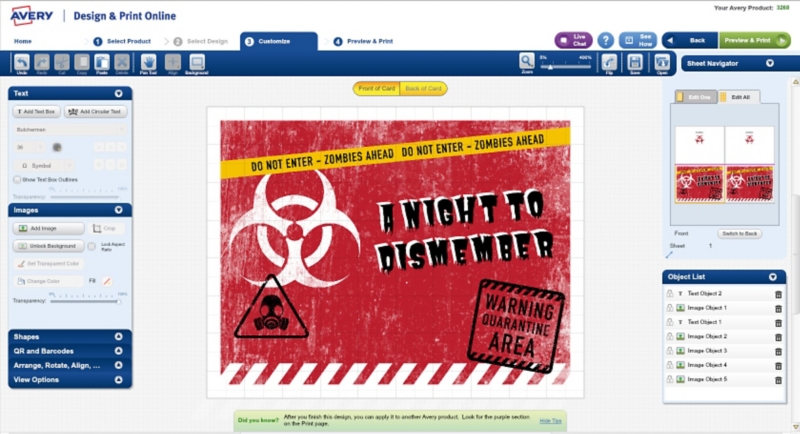 To customize the inside of the card, click on the "Switch to Back" button found on the right side of your screen, under Sheet Navigator. Your design with automatically "flip" for you.
From this…
to this.
Now all you have to do is enter your party details. Don't forget to add your phone number or email address. Guests can RSVP, and you can get a head count.
To enter the name and address of each guest, click the "Edit One" tab, found on the right side of the screen under Sheet Navigator.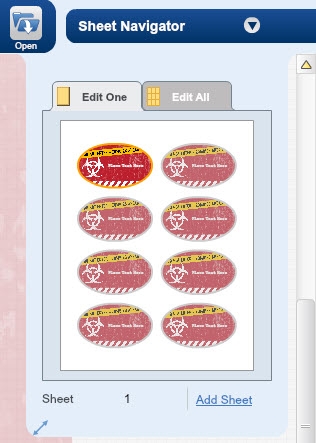 You can also do a mail merge, and have the names and addresses of each guest load automatically from your address list. Click the Import Data (Mail Merge) tab, found on the left side of your screen.
Enter your name and address. Make sure you click the "Edit All" tab, found on the right side of the screen under Sheet Navigator. Then you'll only need to enter your name and address one time, and have it apply to all the labels on the sheet.