How to Make Halloween Glow Stick Holders
Candy sure has the Halloween business covered, but you can easily create alternative treats that skip the sugar. Glow sticks are a big hit with the kids, and these custom glow stick holders are easy to create with Avery Design & Print. Here's how.
It's easy to customize the background, image or text. Let's change the text to read "Halloween Night Light," and change the fancy Bella Donna font to the more frightful Butcherman using the text menu found on the left-hand side of the screen.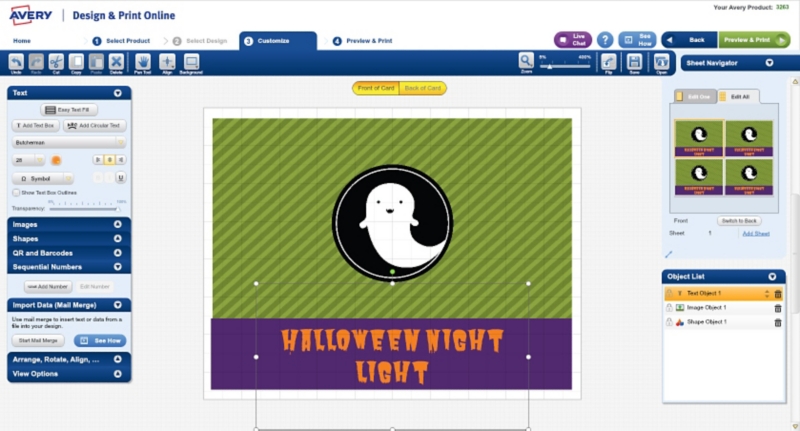 Looking good so far. Now let's size the purple area to fit around the text, and skooch it up a bit so we can see more of the green pattern. You can do this by selecting the shape in your design. To change the shape, outline or transparency, use the shapes menu on the left-hand side.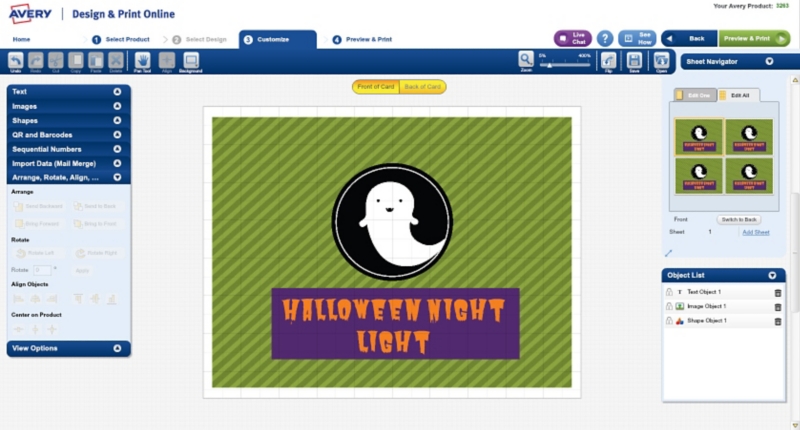 When you're finished customizing your design, click the "Preview & Print" button on the upper-right-hand corner of the screen. Ready to print? Choose your print option on the right-hand side of the screen.
Tuck in the glow sticks
Carefully add two slits on either side of the ghost image so you can skewer your glow sticks through the postcard. It's easier to start with a smaller cut and size accordingly, since you can always make it larger.