Holiday Entertaining Hacks to Save Your Sanity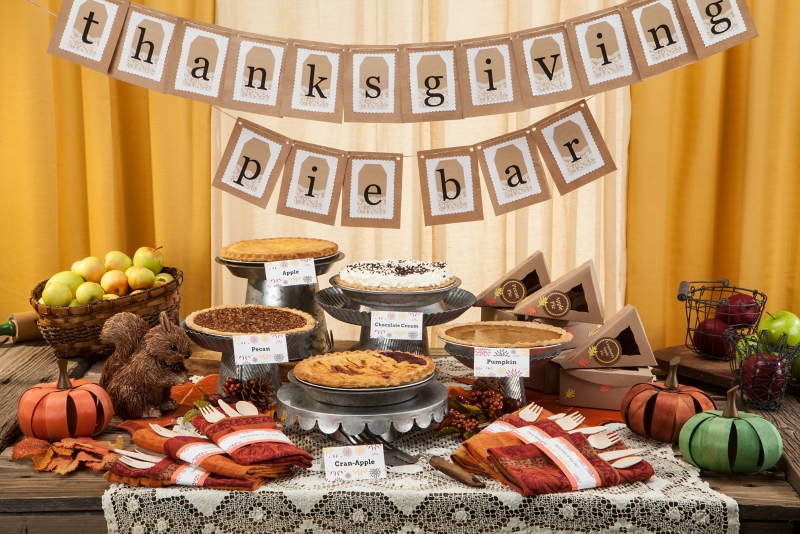 You are perfectly normal if the thought of holiday entertaining stresses you out a bit. Hosting a party can be a little overwhelming. By the time you get to dessert, you're so ready take a break but don't want your hostly duties to slide. So may we suggest a few hacks to have up your sleeve? Because good times will be had. And great memories will be made. And you shouldn't miss a single minute of it.
There's always room for pie
Cut yourself (and your oven) some slack. Make the dessert a potluck event and ask guests to bring their favorite pie. Whether it's a family recipe or something from a shop, the more pie, the merrier! Create festive tent cards to identify the different pies and label an assortment of toppings such as flavored whipped cream, nuts, crumbled cookies, cereal and candy.
Keep it simple with recyclable cutlery
Maybe you're going to run out of silverware. Or you're shuddering at the thought of having just one more thing to wash later. Make it easier on yourself (and your conscience) with recyclable cutlery. Create grab-and-go sets with napkins included so it's easy for guests to carry back to their seats or take with them if they're hitting the road. And once they're done with them, so are you.

Sets of napkins and cutlery bound together with wraparound labels make it easy for guests to grab what they need.
You want a piece of me?
Okay, we just had to say it: Variety is the slice of life. The good thing about having a pie bar is having so many different flavors to try, unless by some weird fluke everyone brings, say, pumpkin. (Nah, squash that thought!) When the evening comes to a close and it's time to wrap everything up, take-out boxes make cleaning up a cinch. And leftover pie makes excellent party favors. So pie not?

Pack up leftover pie slices and label them (either with the type of pie or the guest's name) so guests will have something to take home and enjoy later.