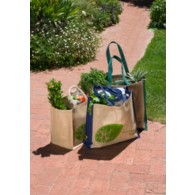 Go, Green Tote Bag, Go!

The more you use it, the greener it gets. It's the reusable tote bag, here to help cut back our reliance on single-use plastic bags and paper bags. In honor of Earth Day this month, here are some more reasons to create your own earth friendly bags: 1) For work - pass them out and encourage co-workers to join the green bandwagon 2) For family and friends - fill with eco-friendly products and give as a gift 3) For small businesses - bag your customers' purchases in them. Add your business name and logo on bags so customers always remember where they got the bag.
Instructions:
You can keep the design as it is, or customize it by adding text or graphics.
Instructions:
Print the design on an
Avery T-Shirt Transfer
. For light fabric transfers, you may need to flip or reverse the design before printing. Refer to the package for detailed directions.
Instructions:
Make sure the tote bag surface is flat before ironing, and follow the directions provided in the package.
TIP:
You may want to cut out the shape of your design from the t-shirt transfer paper to get rid of the edges for a cleaner look.
This review is from AVERY Go, Green Tote Bag, Go!:
To go green is what we should be doing and these bags would be perfect just think of all the trees we would be saving and less plastic in the landfills they are filling up so fast. We need to help our footprint and every little thing that we do today will help our tomorrow so we may live healthier and happier and our children will be able to continue to learn and to be leaders and the whole world can all be a Captain Planet.
Thank you
Ava