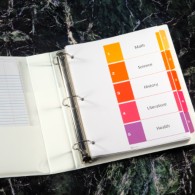 Get Ready for School—with Avery® Ready Index® Dividers

Math, history, science, literature…when your kids have a lot of subjects to juggle, here's a fast and easy way to help them stay on top of it all. Count on Avery Ready Index® Table of Contents Dividers to help them get organized in a flash. With our Quick-fill template, all you need to do is fill in the name of each subject on the Table of Contents page and print. Here's a crash course on how you can create your own.
Instructions:
Go to
Templates
, and enter the product number into the Search field. Find your Ready Index Table of Contents Dividers template under Quick Search Results, and click the title.
Instructions:
On the following screen, verify that you have the right template, then click the blue
Download Template
button. Click to open the template file.
Instructions:
The Quick-fill template should pop up on your screen. Enter your Table of Contents text into the empty fields. If you wish, you can also add pictures to your Table of Contents. When you're finished, click
OK
.
Instructions:
Your information should automatically fill the template. Look it over and make any revisions if necessary. If all's well, put your Table of Contents page in the printer and print.