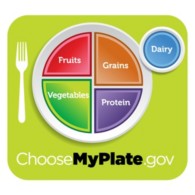 Eat Right with a Daily Nutrition Chart

Does your family tend to veto the vegetables? Do the kids often take a "pass" on protein? Pushing the benefits of eating healthy can go down a lot smoother with this easy-to-use nutrition tracker based on the USDA food icon, "MyPlate." For more information about food groups, please visit the USDA website: http://www.choosemyplate.gov/
Instructions:
Click
to open the templates for the "MyPlate" chart and the food icons graphics.
Instructions:
Create a chart for each member of your family by personalizing the "MyPlate" chart with each of your names.
The food icons are only provided as suggestions. Please check with your physician for your individual dietary needs. Also, you might consider looking for other food icons that more adequately represent the specific types of foods your family eats.
Instructions:
Cut out each of the individual food icons by trimming into equally-sized round circles or squares.
Instructions:
Place the "MyPlate" chart magnet onto the refrigerator or other magnetic surface, with the food magnets beside it. Move a magnetic food icon onto the appropriate section of the plate on the chart each time you eat a serving from that food group. During the day, you can keep an eye out for which food groups you need to create a well-balanced diet.