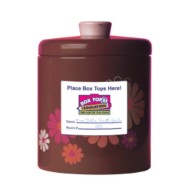 Decorate Box Tops Collection Containers

Help everyone easily identify where Box Tops coupons are being collected with bright and colorful Box Top labels that are perfect for any container.
Instructions:
Start by picking your desired product. Avery Shipping Labels (5164 and 8164 or 5163 and 8163) or Avery Address Labels (5160 and 8160) have templates featuring Box Tops logos.
Instructions:
Go to Avery Design & Print Online
- Enter your product number and click Go.
- Select your desired label and click Next.  
- Click the Box Tops for Education category in the left menu and then select the design of your choice and click Next.
Instructions:
Use the Easy Edit tool at the top of the page for quick editing of the text, or you can edit and format your text and graphic using the text and graphics menu on the left.  When everything is how you want it, click Preview and Print.
Instructions:
Review your project to see how it will print. If additional changes are needed, click Back. When your project is ready to print, click Print.
Tip:  If you want to easily add the same design to other labels, use the Apply Design tool on the right.
Instructions:
Attach your labels to baggies, collection boxes or jars.
When you're ready to turn in your coupons, make sure you write down the number of coupons you've collected on your label for easy counting. Your Box Tops coordinator will appreciate it.
This review is from AVERY Decorate Box Tops Collection Containers:
Using Avery products. Once I started in 1997 I have never thought about trying another product that Avery Dennison makes. Absolutely the finest quality available on the market. Business and home labeling, templates, and useful ideas.... And Box Tops - - collecting for the schools has been a hobby of mine for years. Have friends and family collecting for our local schools. It gives me a great feeling knowing that I am helping others .