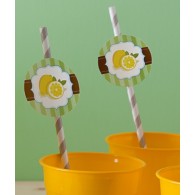 Create Sensational Sippers for Drinks

Studies have shown the smell of citrus can help reduce stress. Just imagine all the tension draining away as you drain a cool glass of lemonade decorated with these adorable straw seals made with Avery Round Labels. Perfect for birthday parties, bridal showers, book club meetings, fundraisers, or as a nice touch to straws at your kid's lemonade stand. Print two seals per straw, then fasten onto each straw by placing the seals back-to-back with the straw in between. Then sip away as the stress slips away!
Instructions:
Click to open the label template from Avery Design & Print Online. This free software program at avery.com/print is available anywhere you have internet access—no download required!
Lemonade Round Label
Instructions:
Design: Keep the current design, or create your own. To change the design, just click and delete the existing graphic or background you want to change, then use the image options on the left of the screen to add a new graphic from the image gallery or your own files.
Text: Click the text box to enter your text. To add a new text box, click the
New Text
button from the Text menu on the left.  Move your text boxes by clicking on the edge of the box and dragging it to just the right spot.
Use the sheet navigator on the right-hand side and choose
Edit All
to make changes to all your labels, such as changing the text style and size.  Then, to apply a different design and/or text to individual labels, choose
Edit One
and click on the card you want to edit.
Instructions:
Click
Preview & Print
to review your design. To make adjustments, just click the
Back
button. When your design is ready to go, just click the green
Print
button to open the file. Your labels are ready to be printed.
Instructions:
To save your design, click the
Save
button. In the pop-up window, create a file name and save to either a free MyAvery account online or to your computer. To open saved projects, just go to avery.com/print.