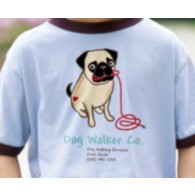 Advertise Your Dog Walking Business on a T-shirt

Looking for a way to help your kid advertise their dog walking or pet sitting services? Whether they're starting a summer job or launching a year-round gig, one way to promote their business is to let their t-shirt do the talking! Use this starter template to create a custom t-shirt with Avery T-shirt Transfers. Your kid will have a neat uniform to wear when they work while promoting their business at the same time. Now that's multitasking!
Instructions:
Click to open the t-shirt template from Avery Design & Print Online. This free program at avery.com/print is available anywhere you have internet access—no download required!
Dog Walking T-Shirt Template
Instructions:
Design: Keep the current design, or create your own. To change the design, just click and delete the existing graphic or background you want to change, then use the image options on the left of the screen to add a new graphic from the image gallery or your own files.
Text: Click the text box to enter your text. To add a new text box, click the New Text button from the Text menu on the left.  Move your text boxes by clicking on the edge of the box and dragging it to just the right spot.
Instructions:
Click Preview & Print to review your design. To make adjustments, just click the Back button. When your design is ready to go, just click the green Print button to open the file. Your t-shirt transfer is ready to be printed.
Note: For light fabric transfers, Design & Print Online will automatically flip or reverse the design before printing. Dark fabric transfers don't require flipping for printing, so be sure you choose the right template for your type of fabric transfer. You can use the Apply Design to Another Product button on the Print page to change products if needed.
Instructions:
To save your design, click the Save button. In the pop-up window, create a file name and save to either a free MyAvery account online or to your computer. To open saved projects, just go to avery.com/print.
Instructions:
Like the look of your project? You can apply the design to another product by clicking the purple Apply Design to Another Product button from the Print page. Then enter the Avery product number to start your next project.