Nine Clutter-Busters for a More Organized Year
This is the year to simplify, and we're here to share ideas on how you can make your life run more smoothly. From managing busy schedules and activities to controlling clutter and paperwork, these tips make it easier to stay on top of your everyday tasks so you can focus on what matters most. Here's to a more organized year!
Tip 1: Design, print and organize
Make organization easier with custom labels printed just the way you want. Start with
Avery Labels
, available in a variety of shapes and sizes, and personalize with free templates on
Avery Design & Print.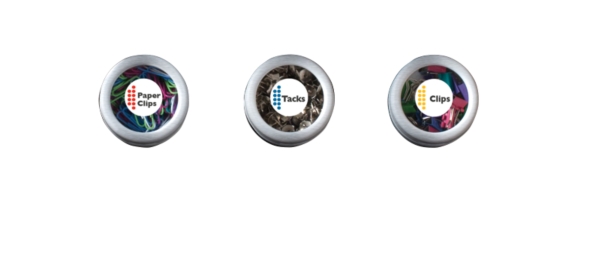 Tip 2: Stop wasting time hunting down lost items

Items are easier to find when there's a place for everything, and everything has its place. Use Avery Removable Labels on boxes, bins and containers to assign a home for office supplies, loose receipts and bills.
Tip 3: Freshen up your files

Want to find out which files you use the most? Each time you use a file, cover up the old file folder label with a new one using Avery File Folder Labels. You'll be able to tell which files are used often by their updated labels (and which files need to be archived).

Tip 4: Use it or lose it
Crack down on unnecessary clutter in your home or office. Sort items into boxes marked "Trash," "Recycle" or "Donate" using
Avery Full-Sheet Labels
, and start chucking.
Tip 5: Make tax time easier
Relieve tax-time anxiety by simply sorting your paperwork by type before you prepare your taxes. Use
Avery File Folder Labels
to label folders for general information, income documents and deduction or credit records.
Tip 6: Reclaim your space
Documents such as past tax records or business statements might be better off in storage instead of taking up room in your work space. Pack them up in storage boxes labeled with archival-safe
Avery Shipping Labels
so you know what's inside.
Tip 7: Brighten up your tasks
Use color to create eye-catching reminders in your planner with
Avery Removable Round Labels
and free templates on
Avery Design & Print
. Designate a color for different projects, family members or events.
Tip 8: Forget the paper shuffle
Tackle those paper piles on your desk once and for all with labeled binder clips. Print
Avery Return Address Labels
with an action such as "File," "Send," "Read" and "Share" so you'll know what to do at a glance.
Tip 9: What's old is new again
Save time and money reusing boxes for storing or shipping. Cover up existing labels and marks on old boxes with
Avery Shipping Labels
with TrueBlock® Technology and block everything underneath.