Five Tips to Get Ready for Back-to-School
Summer may have been filled with fun on the fly, but these ideas can make the transition back to school go more smoothly. From marking school supplies with identification to getting the family back to routine, check out these five tips to help you and your family organize and get ready to take on the new school year.  
Tip #1: Get the word out with contact cards
Whether your child has severe allergies or you want a simple way to set up playdates,
Avery® Business Cards
make it easy to distribute information you need to share over and over again. These handy little helpers can include your contact information for your kiddo to pass out to friends or administrators of after-school programs. Or you can use cards to communicate your child's medical needs and allergy information for teachers, school nurses and babysitters.

Tip #2: Label back-to-school supplies

Make sure that brand new backpack, lunchbox and pencil case make it to and from school without getting lost with identification labels. Using Avery® Kids Durable Labels can help cut down on confusion when your youngster's school supplies mingle with other classmates'. You can also use these labels to color-coordinate your brood's belongings, easing sibling bickering about whose pencil or folder is whose.

Tip #3: Keep the whole family in the loop

Once the back-to-school bell rings, keeping everyone's schedules straight can become a chore unless you set up a family communication center. Keep your family enlightened about weekly events, appointments and outings with Avery® Message Boards so your household won't miss another family memo. Simply designate a high-traffic spot in your home so everyone can post activities, calendars and notes for one another on the family bulletin hub all year long.

Tip #4: Tag back-to-school clothing

You spent a mint on new back-to-school clothes for your little learner, so ensure that those brand new duds make it back with their rightful owner by adding no-sew, no-iron name tags in your kid's clothes, jackets and backpack. These washable Avery® No-Iron Clothing Labels make it easy to write, peel and stick identification onto any fabric-based item, including reusable fabric lunchboxes that see their fair share of the soap and water scene.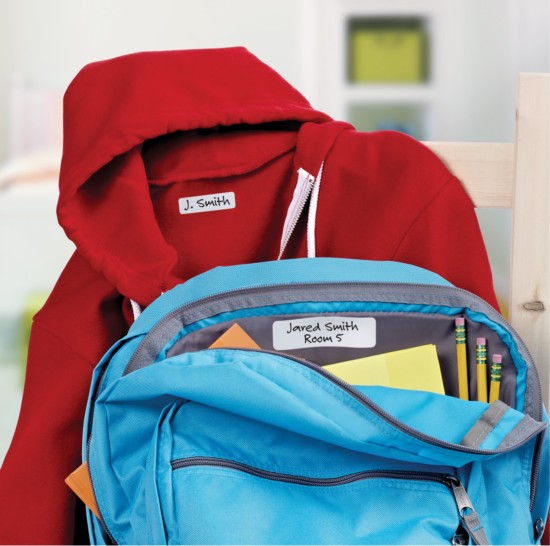 Tip #5: Store the school time memories

It's easy to be buried by the amount of reports, stories and art projects your child will bring home during the course of his or her school career. For those sentimental pieces you want to hold on to for years to come, organizing keepsakes in Avery® Durable View Binders will establish some tranquility amidst the commotion brought-home school work can cause. Simply tuck papers into sheet protectors, categorize with Avery Ready Index Dividers, snap into binders and label the spine with your kiddo's name and school year. For art projects that are too big for a regular-sized binder, Avery has  tabloid-size binders to accommodate projects without folding. Made of heavy-duty material, these 11" x 17" binders are acid free, so it won't lift print off the page.


Getting a jump on the school year is easier when you plan ahead and get everybody onboard as you all make the transition. During the last couple of weeks of your kiddo's vacation, tackle one back-to-school idea each day so it isn't overwhelming. Before you know it, you and the family will be ready to take the first day of school head-on!