Eight Ways to Start Fresh in the New Year
When the New Year's confetti settles and the holiday leftovers are long gone, it's time to pack up the past year and get focused on the new one. But where do you start? Before you get overwhelmed, check out these eight easy ideas to kick off a more organized year.
1. Do the write thing.

What better way to start off the year than with a list of goals you'd like to accomplish? Keep your resolutions by writing down your goals with as much detail as possible. Whether your goal is to buy a new house, lose those 10 pounds or learn how to play the ukulele, writing it down and keeping a detailed checklist can help you maintain your progress. Avery Mini Binders and Dividers are perfect for keeping on track.
2. Conquer the clutter.

Is your space so cluttered, it's no longer functional? It's hard to get going when you don't have enough room to breath. Try to clean up your clutter one room, or space, at a time. Sorting contents into separate boxes—trash, recycle, donate and sell will make it easy. Arm yourself with four large containers and Avery Labels so you can clearly see where you're sorting items to. Give yourself a time limit for each area you plan to attack so you can stay focused at the task at hand.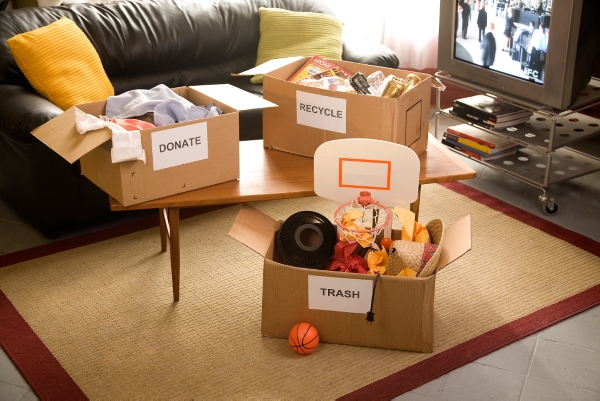 3. Keep it simple.

Sometimes the simplest storage solutions work best. Keep items you use frequently in a nearby area that's easily accessible. For example, keep coffee cups, filters and coffee in the cupboard or drawer nearest to the coffee maker.  Make sure you clearly label your storage boxes so you know what's inside. Avery Shipping Labels with TrueBlock™ Technology are perfect for this. You can cover up what's underneath, including old markings or labels and clearly identify what's inside the box with a clean, new label.
4. Give everything a home.

Do you spend a lot of time hunting down missing items because they've been misplaced, or borrowed and not returned? Next time, assign a designated home for each of your items, and label them with the location where it should be returned. Avery I.D. Labels are perfect for the job because they come in all shapes and sizes. A pair of scissors that often go wayward can be labeled "desk drawer" or "supply cabinet." When everything has its place, everyone will know where each item belongs, where to find it and where to return it when they're done.
5. Find your file style.

There are many different ways to file paperwork. Filing can be alphabetical, chronological, numerical, color-coded or a combination of different methods. The key is to create a system that's easy for you (and whoever's sharing your files) to use, and keep it consistent for all similar files.  
6. Out with the old, in with the new.

Show off your efficient side by clearing out your old, outdated files while you update or create current files at the same time. Avery File Folder Labels with TrueBlock™ Technology enable you to reuse old file folders because they provide complete coverage over existing labels. And with tax season around the corner, it's a good time to get your paperwork in order and start preparing for next year.
7. Start small, think big.

If you're feeling a bit intimidated with all you need to do, relax. Just do a little bit at a time. As long as you do something on your list each day or each week, you're still making progress. You can also boost your sense of accomplishment by tackling smaller projects that can be finished quickly and taking care of larger projects in bite-sized chunks.
8. Motivate yourself with rewards.

A little incentive never hurt anyone. Set up key milestones within large projects, and when you reach them, treat yourself. Enjoy a fresh cup of coffee after you've completed a large mailing project at work, or go catch a movie after you've cleaned out the basement at home. Just remember to take a break and enjoy a little well-deserved fun.
When you see the progress you've made from all your hard work, you're on the right track—so keep going! Don't let things pile up, and resist the urge to procrastinate. Once you get organized, it'll be easier to stay organized. Now's the perfect opportunity to get that fresh start you've always wanted. It's a habit that's sure to reward you throughout the year, and all the years to come!