Be More Productive with an Organized Planner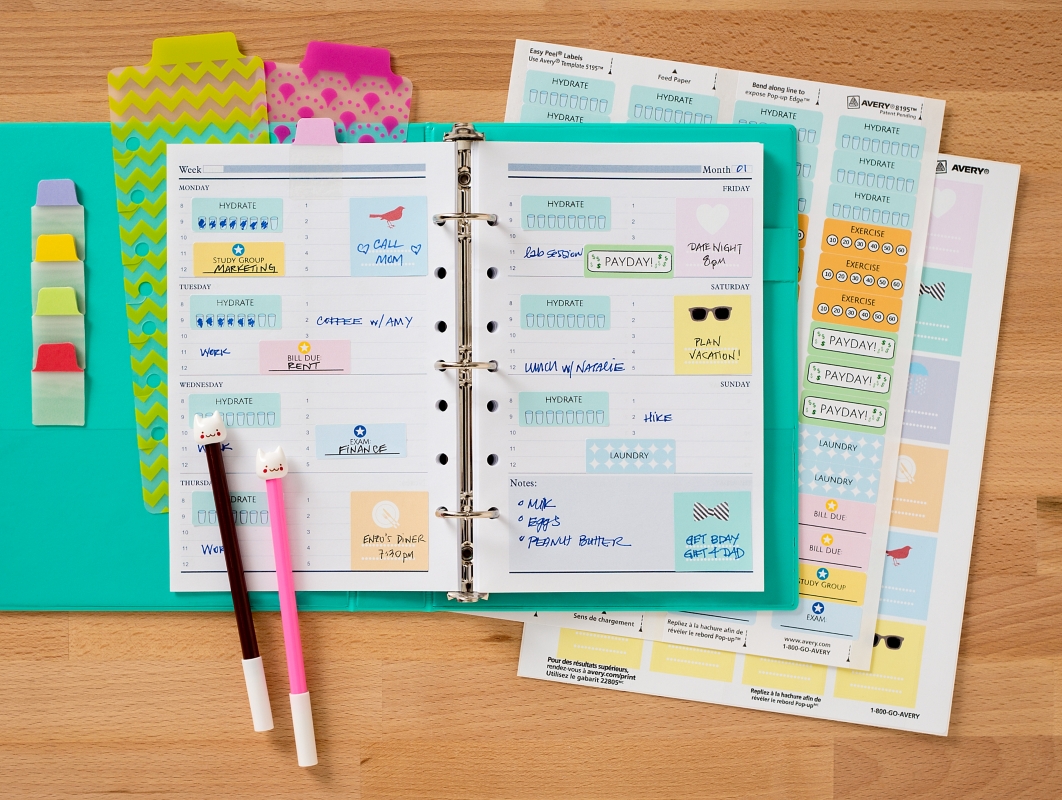 When you have a million thoughts rattling around in your head, it can feel overwhelming. One simple way to calm your restless mind is with a personal planner. Part calendar, part to-do list and part journal, your planner can work like an extension of your brain. Use it to jot down whatever pops into your head in the middle of the night, or to remind yourself of those important, little things that go *POOF* when you try to recall them. Want to make your planner more effective? Try these simple strategies.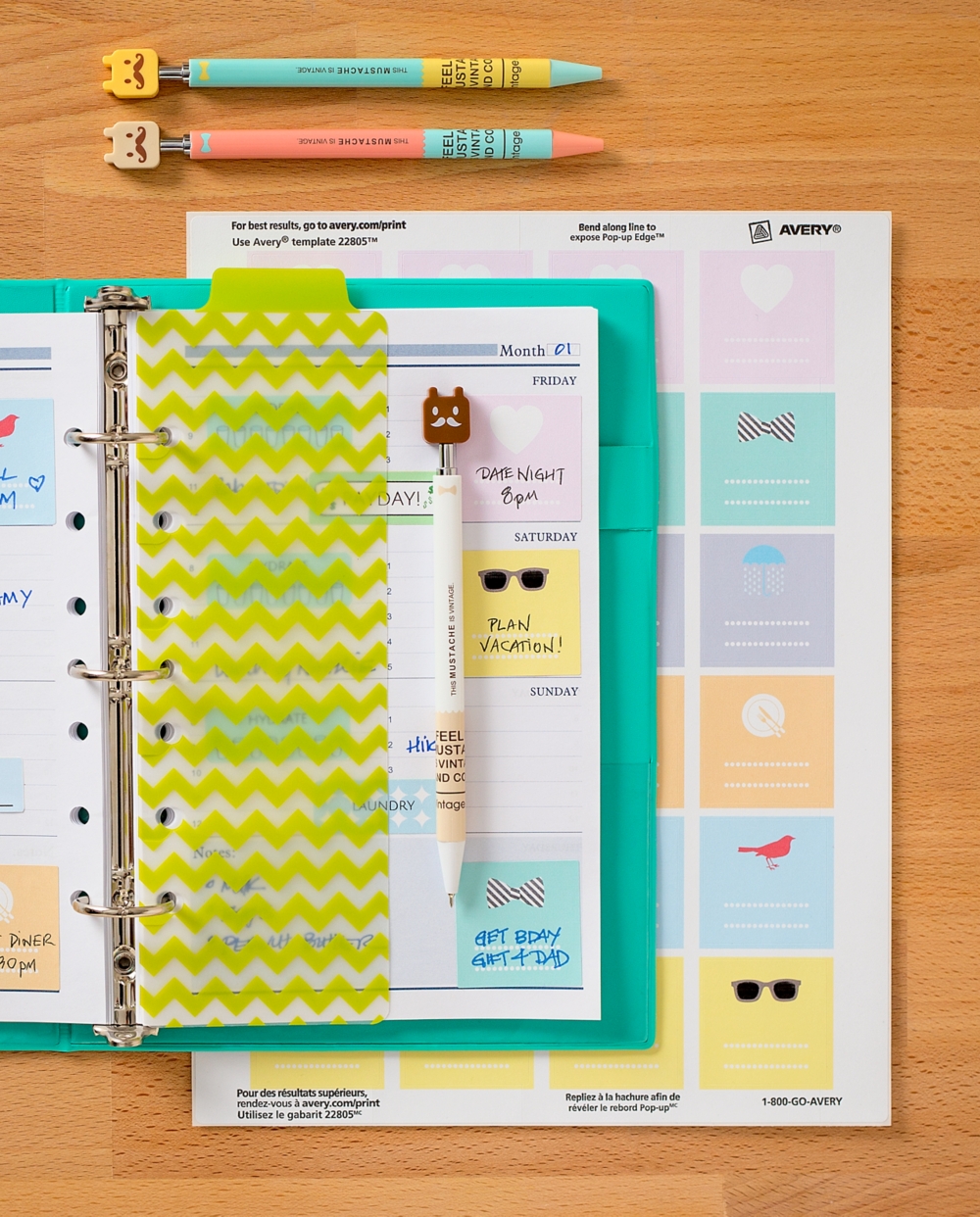 Use custom labels to designate blocks of time to focus on just one thing. Shown here: Avery Square Labels and Avery Bookmark Dividers.
Zero in on tasks with time blocking
Each brand-new day brings so many possibilities. But once your day gets going, it marches forward at a furious pace and then you wonder where the time has gone. With time blocking, you can carve out chunks of time in the day and dedicate each of them to tackling one important task or event.
Need to buckle down to do some research for a report? Got a presentation you need to prepare? Or, maybe you just want to spend some quality time with a significant other? Block the time out on your calendar, and focus on this one thing. At first, it might be tricky avoiding distractions such as emails, phone calls or a wandering mind. Just realign your focus, keep plugging away and you'll see how much more productive you can be.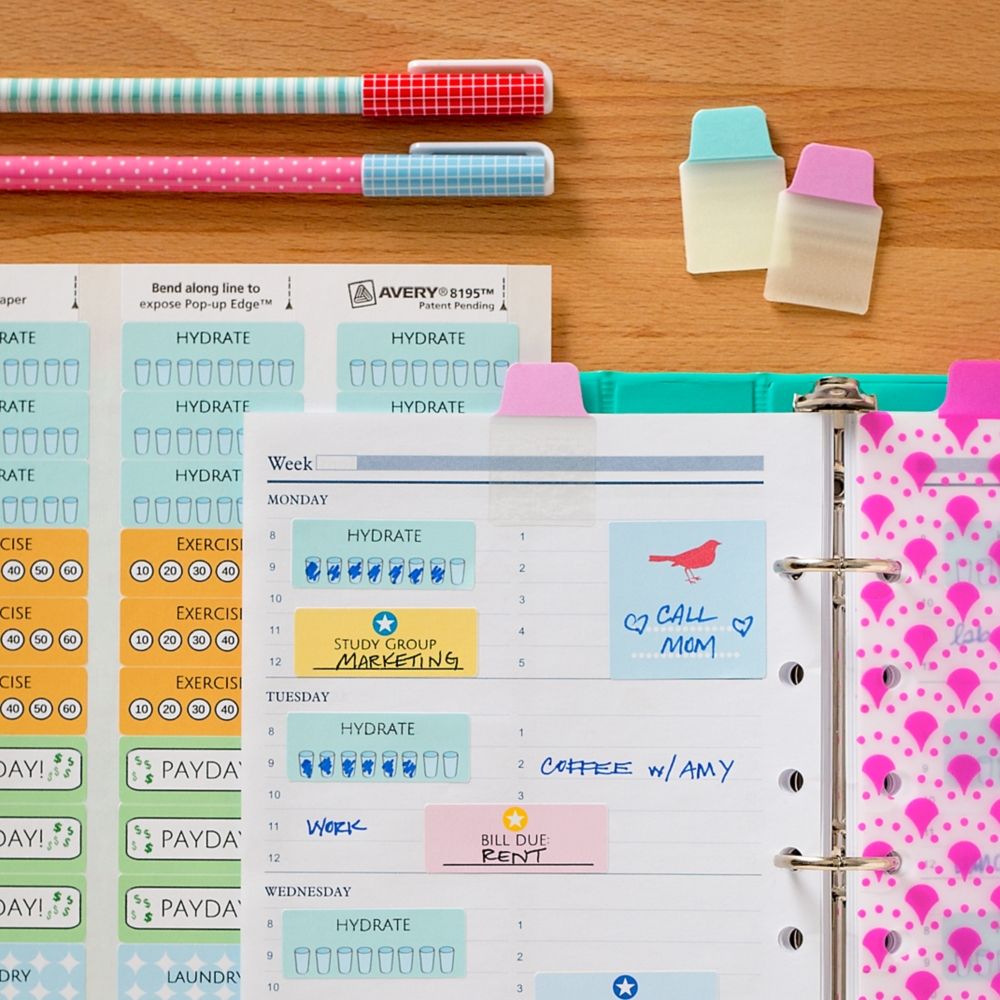 Colorful reminder stickers capture your attention on your calendar. Shown here: Avery Return Address Labels and Avery Ultra Tabs™.
Keep track with daily and weekly reminders
Did you take your vitamins? Pay your bills? Remember to drink enough water? Reminders aren't here to nag you—they just want to make sure you stay on top of those little things you need to do.
Daily reminders can help you keep track of how many glasses of water you drink, how many minutes you've spent working out, or whether you've taken your daily vitamins or medication each day. Reminders can also flag important dates you can't miss on your calendar, such as when bills are due, meetings and special events. It's easy to lose track of things when the day gets busy, so let these stickers monitor your activities for you.
Start a countdown for can't-miss dates
You KNOW your parents' anniversary is coming. And, you're supposed to send out the invites. And plan the menu. And... a million other things. Using a color-coordinated system, just assign one unique color, such as teal blue, to every task related to your parents' party. On your calendar, start from the actual event date and work backwards. Plot tasks on your to-do list onto your calendar using teal blue labels or adding a burst of teal blue around the item you need to do. Using the same color will help trigger your mind to the event and get you in the right mindset of what you need to do.
Writing things down in your planner can help declutter your mind and let your mind focus on the important things. Use this simple organization tool to make this year your most productive yet! You'll find these supplies available at your local office supply store or on avery.com.