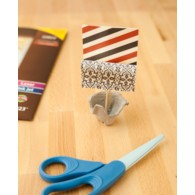 The Cutest Mayflower Craft

Let the little pilgrims' creativity set sail with this Mayflower craft! This fun and easy project will keep them happy, busy and in their seats for Thanksgiving. You'll need: a paper egg carton, scissors, skewers, Avery Rectangular Labels, coins, glue, paper plates, and green and blue markers.
Instructions:
Cut out an individual cup from an egg carton to create each ship hull.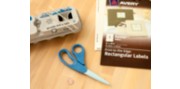 Instructions:
Use glue to attach a coin (or metal washer) to the bottom of the cup to help it balance. Set aside to dry.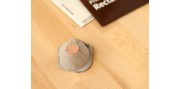 Instructions:
Choose a design on Avery Design & Print Online to print onto rectangular labels for sails, or the children can create their own design using crayons or markers.
Cut the skewer off-center from the middle at an angle so you have two different lengths for the ship masts, and pointy ends on both pieces.

Stick two rectangular labels back-to-back around the sliced end of the taller skewer piece, leaving a little of the skewer sticking out of the top.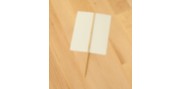 Instructions:
Take a single rectangular label and fold over the top of the sliced end of the shorter skewer piece. Create a "billowy" effect by keeping the top of the label arched and only sealing the bottom.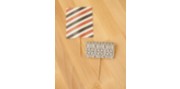 Instructions:
With your egg cup upright, insert the skewers into the egg carton with one in front of the other. Your Mayflower ship is ready to navigate the Thanksgiving table! If the ship does not stand upright, add a little weight (such as clay or an eraser) inside the cup.
Optional: Create a land/seascape using blue and green markers to color the back of a paper plate to give the little Mayflower a place to sail.