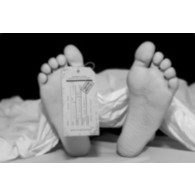 Give 'em a Scare with Tags of Terror

Shoo, all you pretty little designs of sunshine, flowers and hearts. This is the time of year to turn up the fear factor with designs that bring on the feeling of fright—even on your gifts and invitations. Create a mixed sense of dread and delight in the home or office with these customizable tag designs that add the right touch of décor to your Halloween tricks and treats.
Instructions:
Use the pre-designed template as is, or give it your own personal twist. You can also add a personal photo or graphic of your choice.
To create personalized tags for different recipients, use the sheet navigator on the right-hand side. Click the "Apply to One" radial button and enter text for each tag.
To create generic tags with the same text, use the sheet navigator on the right-hand side. Click the "Apply to All" radial button and enter your information one time.
Instructions:
Click "Preview & Print" to review your design. To make adjustments, just click the "Back" button in the upper-right-hand corner. When your design is ready to go, just click the green "Print" button.
For printable tags, print on
Avery Printable Tags with Strings
.
For tags using business cards, print on
Avery Clean Edge® Business Cards
.
Tip: Follow the directions from the insert in the package for basic printing tips.
Instructions:
To save your design, click the "Save" button. In the pop-up window, create a file name and save to either your "MyAvery Online Account" or your computer.
Instructions:
Attach gift tags to goodie bags, necks of beverage bottles, plant or pumpkin stems, a bouquet of black dahlias or chocolate cosmos, or loop in ribbon wrapped around gift boxes. Small businesses can create Halloween-themed tags to promote products. And just imagine what you can do when you use the toe tag invitation!