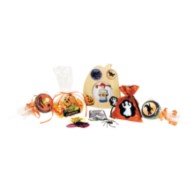 Decorate Halloween Goodie Bags & Treats

Give your trick-or-treaters a special treat with these decorated goodie bags and lollipops.
Instructions:
Personalize each sticker with the trick-or-treaters' names, or write your own "spooky" message. Boo!
Instructions:
Cut out stickers with scissors or a craft knife.
Instructions:
Use the stickers to decorate goodie bags, lollipops, and more.
Instructions:
You can also use the stickers to decorate party invitation envelopes or picture frames.