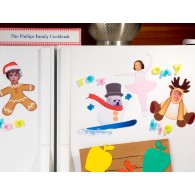 Get Attracted to Magnetic Paper Dolls

You and the kids won't be able to resist making your own personalized magnetic mini-me. They make great party favors for kids or a whimsical little stocking stuffer. Have fun dressing up the doll with these outfits, or create your own!
Instructions:
Cut out the paper doll templates, carefully cutting out and removing the area where the head will be.
Instructions:
Print out a digital photo or choose a photo from your own personal collection. Carefully cut out the head of your kids, relatives, friends or even the family pet!
Instructions:
Anchor your personal head photo with the magnetic doll and place it on your refrigerator or any other metal surface.
This review is from AVERY Get Attracted to Magnetic Paper Dolls:
I love these magnetic full sheets. There is endless possibilities of use. Paperdolls, math sheets, magnetic pictures. I could go on and on. Also there is virtually no waste because even for cut-outs you can use the left over on another project.