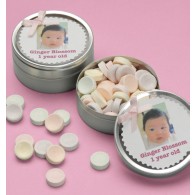 Tin Box Favor

Create a gift or party favor featuring your favorite photo on a little tin box.
Instructions:
Using your favorite software, insert your photo and size to about 2" to fit onto tin box.
Create a text box and type in your text. Format the text box with no fill and no line.
Instructions:
Print out the photo and text onto Avery White Sticker Paper. Trim out the photo to cover the box lid using Fiskars
®
Stamp Paper Edgers.
Instructions:
Adhere image to top of tin box. Glue on ribbon or other embellishments.
Instructions:
You can also print the photo onto Avery Printable Magnet Sheets and apply to the tin box. Fill the box with candy or other goodies and give to friends and family as a gift or party favor.