Email
Avery® White WeatherProof™ Labels for Laser Printers 5524, 3-1/3" x 4", Box of 300

Product Number:

5524

These WeatherProof™ White Labels get all your packages where they need to go. They stand up to tough weather and temperature conditions and still stay strong. They stick firmly and feature durable construction that allows them to repel water and moisture. They also resist scuffs, tears and smudges so they remain easy to read. And with TrueBlock® Technology, they completely cover everything underneath, so you can reuse boxes, mailing tubes and more. With the free templates and designs at avery.com/print, you can create custom labels with sharp, clear text and graphics in minutes.

Compatible with laser printers
Perfect for shipping, addressing, priority messages, warning labels and more
Durable, water-resistant labels provide strong protection against harsh elements
TrueBlock® Technology completely covers everything underneath, so you can reuse boxes, mailing tubes, envelopes and more
Jam free and smudge free, guaranteed

3-1/3" x 4"
Rectangle
White
Laser
Permanent-Adhesive
50 Sheets
6 Labels per Sheet
300 Total Labels
Recommended Products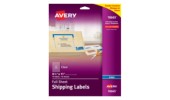 Avery® Clear Full-Sheet Labels for Inkjet Printers 18665, 8-1/2" x 11", Pack of 10
Create large shipping labels and custom shapes with these clear, full-sheet stickers.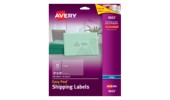 Avery® Clear Easy Peel® Shipping Labels for Inkjet Printers 8663, 2" x 4", Pack of 250
Clear, easy peel address labels. Just bend the sheet to expose the Pop-up Edge™ for fast peeling
Strong adhesive (4)
Tough (4)
How often do you use this item?:
Often (3)
Bright Colors
Doesn't Fade
Good Value
Strong Adhesive
Tough
This review is from Weather Proof Mailing Labels 5523:
My company had an expo where costs needed to be kept down. We looked at different options for name badges but ended up using these labels which worked perfectly! Each attendee was able to peel the label off of their clothing and reuse the same label for the second day of the expo!
Great In Our Freezers
My Printer Likes
Strong Adhesive
Tough
Need More Labels In Box
Somewhat Pricier
This review is from Weather Proof Mailing Labels 5526:
I like the fact that they peel without tearing, and are able to take pretty much any printer ink I am using. I would like to see a box with 200 sheets in it or even more. I go through the box of 100 within a month and it adds up when I have to order so many of the boxes of 100. Other than that please don't change a thing.
Doesn't Fade
Strong Adhesive
Tough
Water Resistant
Industrial Uses
Mailing and Shipping
Retail
This review is from Weather Proof Mailing Labels 5526:
I work in Sales at a processor/distributor facility for dairy products. I use these labels all the time to create Point of Sale Material for some of our customers. We use the labels on cooler doors, including ice cream freezers. The labels are never affected by the moisture, but are easy to remove when needed. Great for inserting product pictures as the color just "pops" on the glossy white label. No smudges ever. I can print the entire box of labels with no jams. Very clean print. You will not be disappointed with this product.
This review is from Weather Proof Mailing Labels 5524:
This label does an excellent job of marking are welding fixtures. The only problem is if the label is applied to close to where we get a lot of weld splatter it does not last very long.
This review is from Weather Proof Mailing Labels 5524:
I use these Weatherproof labels on bottles of sauces we sell. They're great!!! If the bottle gets wet, you don't have to worry about the label getting waterlogged and damaged. The semi-glossiness of the label also gives your product a very professional look.

The template is easy to use. Have never had an issue with centering the text on the label.

Just one note of caution: When printing, may want to only feed one sheet at a time. Since they're slippery, more than one sheet sometimes gets fed into the machine; then there's a jam and wasted sheets. But it's more than worth it to use these!