Email
Avery® Durable Binder, 1-1/2" Slant Rings, 375-Sheet Capacity, DuraHinge™, Burgundy, 27352

Product Number:

27352

Keep lecture notes, procedures and homework assignments organized with this Durable Binder. The sturdy construction is ideal for frequent referencing. The DuraHinge design is stronger, lasts longer and resists tearing, and the DuraEdge feature makes the sides and top more pliable to resist splitting. Our deep texture film offers a smoother finish and features a linen pattern for high quality look and feel. Two interior pockets help you organize and secure loose papers, and the rings hold up to 375 sheets.

Binder features a DuraHinge design that's stronger, lasts longer and resists tearing, and DuraEdge that makes the sides and top more pliable to resist splitting
Deep texture film offers a smoother finish and features a linen pattern for high-quality look and feel
Slant rings hold up to 375 sheets
Wide front and back binder panels fully cover standard dividers and sheet protectors
Organize and secure paper with two interior pockets

1-1/2" Capacity
Burgundy
Slant Ring
With Pockets
Recommended Products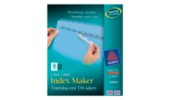 Avery® Index Maker® Translucent Clear Label Dividers 12453, 8-Tab, 5 Sets, Blue
Create customized professional-looking dividers at your desktop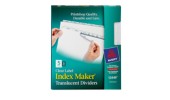 Avery® Index Maker® Plastic Clear Label Dividers 12449, 5-Tab, 5 Sets
Easy-to-customize plastic dividers with Avery Index Maker Plastic Clear Label Dividers 12449.
Color Variety
Durable Construction
Easy To Open/Close
This review is from Durable Binders 27252:
I have been using Avery binders for years but now have difficulty finding them in Burgundy/Maroon. The #27252 binders are the only ones I can find in Burgundy in the desired size of 1". However the last 2 orders I have placed, the cover plastic is not smooth, it is textured. The Avery labels I normally use (#5161 & #6878) will not stick! I place them on the binders only to come back later and find that the labels have curled up and fallen off!
I like to use Avery products because of the quality, but I can't be continuously re-attaching the labels. It defeats the purpose of labels.
This review is from Durable Binders 27353:
I love this binder! Most of my binders are from Avery so i love the binders here no matter what color the binder is.
This review is from Durable Binders 27650:
I have been using these for my customer's safety manuals for several years. They must hold up great because we have never had one come back.
This review is from Durable Binder with 3" EZ-Turn Ring, Blue, PVC Free 27651:
Have used other binders only to have them fall apart.
This binder seems to hold together much better.
This review is from Durable Binders 27556:
Great product to organize all my students. It holds their planner, homework, assignments and take home notes. They are durable and last all year long. I use a different color for each class.