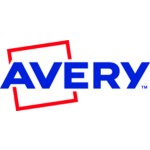 New Avery UltraDuty™ GHS Chemical Labels for Pigment-Based Inkjet Printers Deliver Extreme Chemical Resistance
Brea, Calif. – April 6, 2016 – Avery Products Corporation, the leading manufacturer of printable labels and cards, announced today the launch of Avery UltraDuty GHS Chemical Labels designed for pigment-based desktop inkjet printers. The new line is an extension to the company's collection of heavy-duty industrial labels, which help organizations comply with the OSHA-mandated Globally Harmonized System of Classification and Labeling of Chemicals (GHS). As defined by OSHA, chemical producers and distributors in the U.S. should now be using GHS labels, while workplaces need to update their chemical and secondary container labels by June 1, 2016.
When printed on pigment-based inkjet printers such as Epson® WorkForce Pro® or HP® OfficeJet Pro desktop printers, UltraDuty GHS Chemical Labels provide an extremely durable foundation that is waterproof and resistant to abrasion, sun, tearing and harsh temperatures. Additionally, the labels offer excellent resistance against powerful chemicals such as acetone and MEK.
Featuring a high-performance adhesive, the labels pass the BS 5609 Sec. 2 protocol for 90-day seawater submersion. For overseas shipping where IMDG certification is required, UltraDuty GHS Labels are also BS 5609 Sec. 3 certified on more than 25 desktop inkjet printers. For more details, visit
avery.com/GHS
.
UltraDuty GHS Labels adhere to metal, plastic, painted surfaces, fiber, glass and other materials. They're available in multiple sizes to help identify hazardous materials in a variety of containers such as drums, totes, pails, jugs and bottles. The labels are also ideal for OSHA safety, arc flash, tank, marine and other workplace labels.
GHS and workplace safety labels are simple to create and print on demand using the free templates and software from Avery, with no download required. Designs are available for GHS, OSHA, ANSI, NFPA and more. The free Avery GHS Wizard walks users through the process of creating labels that include GHS-compliant pictograms and statements. It's also easy to customize the labels with a company logo, barcode, lot numbers and other important information.
"Pigment-based ink technology has really taken off when it comes to durable printing, and is now found in many desktop inkjet printers," said Colwin Chan, Group Product Manager for Avery Products. "Our UltraDuty labels are designed to work with these pigment inkjet printers to deliver outstanding durability and chemical resistance to help your safety-compliant information stay legible."
Avery UltraDuty GHS Chemical labels and the no-cost Avery GHS Wizard make it easy to design and print ultra-durable GHS labels on demand, helping companies and workers identify and track chemical containers, creating a safer work environment for everyone.
For more information, visit
avery.com/GHS
.
About Avery Products Corporation


Avery Products Corporation is one of the world's leading manufacturers of printable labels, name badges, business cards, dividers and more, and markets products under the well-known Avery® brand. The company offers innovative solutions to make life easier, including free templates to design, customize and print projects. Avery Products Corporation, a division of CCL Industries, is based in Brea, California. For more information about Avery products, visit
avery.com
.
About CCL Industries


CCL Industries Inc., a world leader in specialty label and packaging solutions for global corporations, small businesses and consumers, employs approximately 9,600 people and operates 87 production facilities in 25 countries on 5 continents with corporate offices in Toronto, Canada and Framingham, Massachusetts. For more information, visit
www.cclind.com
.
Avery and all other Avery brands, product names and codes are trademarks of CCL Industries, Inc. or its affiliates. All other company and product names may be trademarks or service marks of their respective owners.
Contact:


Monica Robinson
Avery Products Corporation, 714-674-8129
mrobinson@avery.com