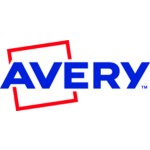 AveryPRO™ Launches Pressure-Sensitive Line for Dry Toner Digital Presses
BREA, Calif. – September 9, 2015 – AveryPRO, a division of Avery Products Corporation, the leading manufacturer of printable labels and cards, announced today the launch of a new line of professional-grade label stock for dry toner presses. AveryPRO, which launched in March with an introductory line for HP Indigo presses, now offers full-sheet and pre die-cut label stock available in 12" x 18" sheets, specially engineered for high-speed and mid-range laser printers and copiers. For printers in need of custom shapes, sizes and layouts, AveryPRO offers several materials that can be customized to create the perfect pressure-sensitive stock to fit special, unique needs. All of the substrates are developed in-house, so quality and consistency is ensured.
Perfect for short-run, print-on-demand requirements, this new line of pressure-sensitive stock provides consistent pre die-cuts and long-lasting adhesives, along with the flexibility to cut sheets down to 8-1/2" x 11" for more print jobs and easier packaging and delivery to customers. The specialty papers and films are engineered for the highest quality print density, ink anchorage and durability. Developed with superior lay-flat properties, they provide optimal performance in diverse printer paper paths. The substrates also have benefits end-users will love, such as permanent adhesive, water- and tear-resistant materials, FDA-compliant adhesives for indirect food contact, and Avery® proprietary features including Easy Peel® and TrueBlock®.
"AveryPRO is excited to expand its digital press offerings with our new line for dry toner digital printers," said Liz Sanchez, Group Product Manager for Avery Products Corporation. "The new line complements our existing collection of quality substrates. Our free Press-Align™ templates are designed specifically for AveryPRO products and enhance the productivity of printers, while our features and benefits improve the end-user experience."
Building on the strong heritage of Avery templates, the free Press-Align templates were created to accurately align with AveryPRO products, saving valuable prepress time and costs associated with alignment issues, error-related fixes and reprints. The free one-up and full-sheet Press-Align design templates deliver seamless integration with printers' existing imposition software, with no download required. Instant access to the library of AveryPRO templates is available using Adobe® Illustrator® or InDesign®, and with one easy click, a 1-up design can be imposed on a full-sheet layout.
AveryPRO also offers a versatile suite of sales and marketing tools to help printers generate incremental revenue. The materials include customizable templates that let printers create leave-behinds and email blasts targeted at specific industries, inspirational in-use images, free sample packs, and video demos and testimonials they can share with their customers.
As the inventor and global brand leader of peel-and-stick adhesive labels for a wide variety of applications, Avery Products Corporation has more than 30 years' experience developing sheet-form products for digital printers, and has evolved along with the digital printing business. The company's diligence with new product development and testing ensures printer and end-user consistency, and is always the top priority. AveryPRO was created with the help and insight of professional printers, and Avery will continue the collaboration as the company looks to expand the offering with even more innovative products and solutions in the future.
To learn more or request free samples, visit
avery.com/averypro
.
About Avery Products Corporation
Avery Products Corporation is one of the world's leading manufacturers of printable labels, name badges, business cards, dividers and more, and markets products under the well-known Avery brand. The company offers innovative solutions to make life easier, including free templates to design, customize and print projects. Avery Products Corporation, a division of CCL Industries, is based in Brea, California. For more information about Avery products, visit avery.com.
About CCL Industries
CCL Industries Inc., a world leader in specialty label and packaging solutions for global corporations, small businesses and consumers, employs approximately 9,600 people and operates 87 production facilities in 25 countries on 5 continents with corporate offices in Toronto, Canada and Framingham, Massachusetts. For more information, visit www.cclind.com.
Avery and all other Avery brands, product names and codes are trademarks of Avery Products Corporation. All other company and product names may be trademarks or service marks of their respective owners.
Contact:


Monica Robinson
Avery Products Corporation
714-674-8129
mrobinson@avery.com