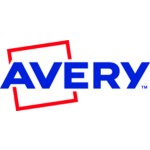 Avery Products Corporation and Stamps.com Make It Easy for Avery Label Users to Purchase and Print Postage
Avery Products Corporation and Stamps.com Make it Easy for Avery Label Users to Purchase and Print U.S. Postage


Avery and Stamps.com have developed a new way to print labels and postage together saving time for mailers via Avery.com. Using Avery's popular Design & Print Online application (avery.com/print), label users can now design their address labels and print official USPS® People who use the free Avery Design & Print Online software to print Avery's most popular address labels can now purchase First Class™ postage and print it on additional sheets of Avery labels using inkjet or laser printers.
Starting with Avery address labels that are 30 per sheet, such as the 5160 for laser printers or 8160 for inkjet printers, a consumer would use the free Avery Design & Print Online software to create address labels. They can choose a blank or pre-designed Avery template and then type in addresses individually, or use the easy drag-and-drop mail merge to import addresses from a spreadsheet. When the address labels have been printed, the user will see an offer to purchase postage for the project from Stamps.com. If they don't already have an account at Stamps.com, they can set one up in a few easy steps. After choosing how many postage labels to print, they just print on additional sheets of Avery labels. The postage labels are used just like regular First Class stamps.
"Avery strives to make mailing easy for our consumers. By working with Stamps.com to add postage printing to our Avery Design & Print Online, we have taken ease-of-use to a whole new level," said Adam Bratter, Marketing Director, Labels & Cards at Avery. "It's a natural extension of the label printing experience to print addresses and then print the postage to mail the letters. We are excited to offer this convenient option to our consumers."
"Stamps.com is excited to expand its long time partnership with Avery in order to bring this new, convenient way to print and purchase postage to both Stamps.com and Avery customers," said Ken McBride, Stamps.com chairman and CEO. "This new Avery and Stamps.com solution is one of the easiest ways to add postage to an Avery address label for business mailings, greeting cards, invitations, or any type of mailing. We think the Avery and Stamps.com communities will love it."
To learn more about printing postage using Avery Design & Print Online and Stamps.com, visit
avery.com/printpostage
.
About Avery Products Corporation

Avery Products Corporation is one of the world's leading manufacturers of printable labels, name badges, business cards, dividers and more, and markets products under the well-known Avery® brand. The company offers innovative solutions to make life easier, including free templates to design, customize and print projects. Avery Products Corporation, a division of CCL Industries, is based in Brea, California. For more information about Avery products, visit
avery.com
.
About CCL Industries

CCL Industries Inc., a world leader in specialty label and packaging solutions for global corporations, small businesses and consumers, employs approximately 9,600 people and operates 87 production facilities in 25 countries on 5 continents with corporate offices in Toronto, Canada and Framingham, Massachusetts. For more information, visit
www.cclind.com
.
About Stamps.com

Stamps.com
(Nasdaq:STMP) is the leading provider of Internet-based postage services to nearly 500,000 customers. Stamps.com's service enables customers to print U.S. Postal Service-approved postage with just a computer, printer and Internet connection, right from their homes or offices. The company has been the leader in transforming the world of mailing and shipping for small business owners, e- commerce sellers, high volume shippers, and enterprise organizations alike. Stamps.com was recently named to Forbes magazine's "America's Best Small Companies" list for 2013, at number 32 on this prestigious list of 100 companies.
Avery and all other Avery brands, product names and codes are trademarks of Avery Products Corporation. Stamps.com, the Stamps.com logo and PhotoStamps® are trademarks or registered trademarks of Stamps.com Inc. All other brands and names are property of their respective owners.
Contacts:


Stamps.com Press Contact:
Eric Nash
Stamps.com
(310) 482-5942
enash@stamps.com
Avery Products Corporation Press Contact:
Heba Armand
Avery Products Corporation
(714) 674-8131
harmand@avery.com