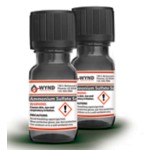 Avery® Launches UltraDuty® GHS Chemical Labels for Small Bottles and Vials
BREA, Calif. – June 26, 2017
Avery Products now offers premium GHS Chemical labels specifically designed for small containers such as lab bottles and vials.
Avery Products Corporation, the leading manufacturer of printable labels and cards, announced today the availability of Avery UltraDuty GHS Chemical Labels for small containers such as lab bottles and vials. The new label sizes are the latest additions to the company's collection of award-winning industrial-grade labels that help businesses comply with the OSHA-mandated Globally Harmonized System of Classification and Labeling of Chemicals (GHS). Now, one year after the June 1, 2016 compliance deadline, chemical producers, distributors and workplaces that use hazardous chemicals should ensure they are fully GHS compliant by updating their chemical and secondary container labels as needed.
The new sizes include a versatile 1" x 2.5" labels that work well on a variety of small bottles, and the 0.5" x 1.75" labels that are great for containers like vials and ampoules. UltraDuty GHS Chemical Labels work well on a variety of surfaces such as glass, plastic, metal and ceramic, and they're also waterproof and resistant to chemicals, abrasion, UV fading, harsh temperatures and tearing.
"GHS labeling of small containers has been a challenge since OSHA requires that all containers of hazardous chemicals being shipped, no matter how small, be labeled in compliance with HCS 2012," said Colwin Chan, Group Product Manager at Avery. "Our new smaller GHS labels, along with our GHS Wizard® online software, help get the required information onto labels that fit small bottles and vials."
OSHA has made practical accommodations if the manufacturer can show that it is not feasible to use pull-out labels, fold back labels, or tags to label small containers with the full GHS information. In these cases, OSHA allows minimum required information on the label including: the product identifier, the signal word, appropriate pictograms, manufacturer's name and phone number, and a statement indicating the full label information for the chemical is provided on the outside package. In addition, the outside package must have the full GHS label with all required elements, and also clearly inform users that the small containers must be stored in the outer container bearing the complete label.
GHS and workplace safety labels are simple to create and print on demand using the free templates and software from Avery, with no download required. Designs are available for GHS, OSHA, ANSI, NFPA and more. The free Avery GHS Wizard walks users through the process of creating labels that include GHS-compliant pictograms and information.
Avery UltraDuty GHS Chemical labels and the no-cost Avery GHS Wizard make it easy to design and print durable GHS labels using standard desktop printers, helping companies and workers safely identify all of their chemical containers, from large drums to small vials.
For more information, visit
avery.com/GHS
.
About Avery Products Corporation
Avery Products Corporation is the world's largest supplier of labels, specialty converted media and software solutions to enable short-run digital printing in businesses and homes alongside complementary products sold through distributors and mass market retailers under the Avery® brand. Avery Products Corporation, a division of CCL Industries, is based in Brea, California. For more information about Avery products, visit avery.com.
About CCL Industries
CCL Industries employs more than 20,000 people operating 154 production facilities in 36 countries on 6 continents with corporate offices in Toronto, Canada, and Framingham, Massachusetts. CCL is the world's largest converter of pressure sensitive and extruded film materials for a wide range of decorative, instructional, functional & security applications for government institutions and large global customers in the consumer packaging, healthcare & chemicals, consumer electronic device and automotive markets. Extruded and laminated plastic tubes, folded instructional leaflets, precision decorated and die cut components, electronic displays, polymer bank note substrate and other complementary products and services are sold in parallel to specific end-use markets.
Avery and all other Avery brands, product names and codes are trademarks of Avery Products Corporation. All other company and product names may be trademarks or service marks of their respective owners.
Contact:
Avery Products Corporation
714-674-8500
press@avery.com