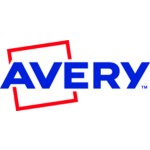 Avery® Expands Ultra Tabs® Product Line with New Stylish Designs
BREA, Calif. – August 15, 2017


The durable, repositionable, smudge-free* tabs enable easy organizing and referencing in notebooks, binders, planners and more
Avery Products Corporation, the world's largest supplier of labels, specialty converted media, and software solutions that enable short-run digital printing, announced today that it has expanded its new Ultra Tabs line to include fashionable design tabs for quick, easy flagging, indexing and referencing. Avery, a leader in durable office and school supplies, introduces the new patterns on its self-adhesive tabs to let users customize their binders, notebooks and planners with fun designs and stylish colors.
Perfect for organizing documents and files, marking pages in magazines or textbooks, and referencing notes in binders or presentations, Avery Ultra Tabs products are sturdy, writable and repositionable. The tabs include a plastic layer to prevent bending and curling, and they're writable on both sides. The tabs' paper overlay provides a smudge-free* surface for writing with most pens, pencils, markers and highlighters. Additionally, the see-through writable body sticks securely and removes easily, allowing the tabs to be repositioned again and again.
"Since launching our Ultra Tabs line last year, we've received extremely positive feedback from consumers about the tabs' sturdiness, the ability to write on both sides, and the no-smudge feature," said Laura Cruz, Group Product Manager, Avery Products Corporation. "The new design tabs were created so consumers can add a sense of style and personality to their notes and paperwork, whether they're organizing the upcoming week in their planner, or jotting down information in a notebook."
The new Ultra Tabs products come in two designs and are available in packs of 24— purple, blue and pink polka dots or blue, green and pink contemporary patterns. Consumers can also choose from a variety of additional Ultra Tabs products, available in bright and vibrant colors.
-
Multi-use Tabs:
Great for organizing, indexing and marking books, documents, notebooks and more
-
Mini Tabs:
Smaller size and more durable than flags, they're ideal for flagging, indexing and referencing
-
Margin Tabs:
Slimmer body fits within the margin of books and documents without interfering with text
-
Big Tabs:
Bigger tabs offer more room for extra text or larger writing
-
Tab & Note:
Larger see-through body allows for note taking and tabbing all in one place
-
New Filing Tabs:
Wider tabs feature more space for text and are great for organizing file folders and hanging files
For easy access, Ultra Tabs product users can keep their tabs secure and accessible in the new Avery Ultra Tabs Clip & Go Carrier. The durable, portable carrier is four-hole punched to fit into any standard or mini binder, or it can be clipped to the top of notebooks, planners, textbooks and more. Users can easily refill their carrier with different colors and sizes of their favorite Ultra Tabs products.
Like all Avery products, Ultra Tabs products are backed by the company's "Hassle-Free Product Replacement Guarantee." Avery will gladly replace any of its products that do not provide complete satisfaction.
The Avery Ultra Tabs product line is available at ecommerce sites and retail stores nationwide. To learn more or to find a retailer near you, visit
avery.com/ultratabs
.
*Ink dry times may vary
About Avery Products Corporation
Avery Products Corporation is the world's largest supplier of labels, specialty converted media and software solutions to enable short-run digital printing in businesses and homes alongside complementary products sold through distributors and mass market retailers under the Avery® brand. Avery Products Corporation, a division of CCL Industries, is based in Brea, California. For more information about Avery products, visit
avery.com
.
Avery and all other Avery brands, product names and codes are trademarks of CCL Label, Inc. All other company and product names may be trademarks or service marks of their respective owners.
About CCL Industries
CCL Industries employs more than 20,000 people operating 154 production facilities in 36 countries on 6 continents with corporate offices in Toronto, Canada, and Framingham, Massachusetts. CCL is the world's largest converter of pressure sensitive and extruded film materials for a wide range of decorative, instructional, functional & security applications for government institutions and large global customers in the consumer packaging, healthcare & chemicals, consumer electronic device and automotive markets. Extruded and laminated plastic tubes, folded instructional leaflets, precision decorated and die cut components, electronic displays, polymer bank note substrate and other complementary products and services are sold in parallel to specific end-use markets.
Media Contact
Avery Products Corporation
714-674-8500
press@avery.com